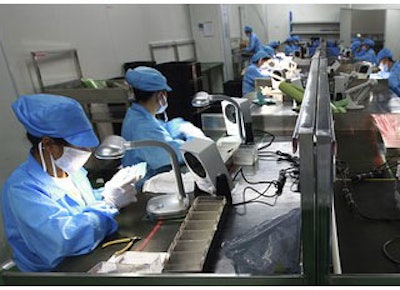 BEIJING (AP) -- China's auto sales, retail spending and factory output all improved in August in new signs of an economic recovery.
Retail sales rose 13.4 percent over a year earlier, government data showed Tuesday. Industrial production gained at its fastest rate this year, rising 10.4 percent. An industry group reported growth in auto sales accelerated to 11 percent from July's 10.5 percent.
Analysts welcomed the signs of a rebound from China's deepest slump since the 2008 global crisis but said it still is unclear how durable it will be.
"The stronger data over the last couple of months have settled nerves about a possible hard landing," said Mark Williams and Qinwei Wang of Capital Economics in a report.
However, they said, "the economy is once again being propelled, unsustainably, by state-led investment."
The signs of economic revival will ease pressure on Chinese leaders who want to focus on longer-term structural reforms analysts say are needed to keep economic growth strong.
"We have got a picture of a broad-based recovery from external demand to domestic demand, and from consumption to investment," said Bank of America economists Xiaojia Zhi and Ting Lu in a report.
Economic growth declined to a two-decade low of 7.5 percent in the second quarter but trade, factory output, auto sales and other activity has improved since then.
The slowdown was largely self-imposed as Beijing tightened curbs on lending and construction to steer the economy toward more sustainable growth driven by domestic consumption instead of exports and investment.
This year's official growth target of 7.5 percent is barely half of 2007's eye-popping 14.2 percent rate.
An unexpectedly sharp decline in growth this year prompted communist leaders to respond with higher spending on railway construction and a small business tax cut, but have resisted pressure for a more ambitious stimulus.
Investment in factories and other fixed assets picked up in August. The National Bureau of Statistics reported it rose 20.3 percent, compared with 20.1 percent for the first eight months of the year.
"The data came in generally better-than-expected, suggesting some further solid pickup in activity momentum," said JP Morgan economist Haibin Zhu.
August export growth accelerated to 7.2 percent from July's 5.1 percent.
Also in August, consumer inflation edged down to 2.6 percent from July's 2.7 percent. Wholesale prices that have declined steadily for more than a year fell less sharply in another sign of growing demand.
"With a number of other emerging markets mired in turmoil as the U.S. Fed prepares to taper its QE program, we believe China stands out as a relatively safer haven with its resilient growth, stable currency and strong balance of payments," said Bank of America's Zhi and Lu.
---
More from MBTMag.com
Icahn Ends Takeover Battle For Dell
Car Prices Hit Record As Buyers Load In Options
Hybrids, Small SUVs, Sense Of Relief At Frankfurt
Explore more news
here
.