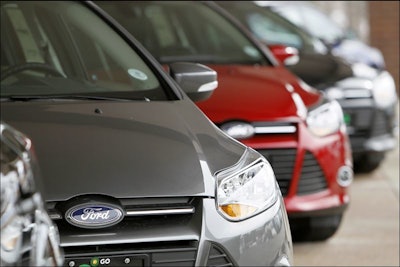 DETROIT (AP) — Americans headed for local car dealers en masse last month, taking advantage of year-end closeouts, sweet leases and inexpensive financing to boost the industry and log its strongest sales year since 2007.
Most major automakers, who report sales on Friday, were expected to report gains for the year. But there were signs in December that 2014 could bring more price competition and better deals for consumers as U.S. auto sales growth starts to slow.
Most analysts are predicting that Americans bought around 1.4 million new cars and trucks last month, the fourth-best month of the year. That means the industry will finish 2013 with sales of about 15.6 million cars and trucks, roughly 8 percent better than the 14.5 million vehicles sold in 2012.
Auto sales have risen by more than a million vehicles per year since 2009, when just 10.4 million cars and trucks sold. But some analysts expect growth to slow to as little as 400,000 this year, with total sales around 16 million. That means automakers likely will offer deals to protect or increase market share.
"We think there's going to definitely be more competition," said Larry Dominique, president of Automotive Lease Guide, a company that tracks lease costs and car prices. "We're seeing the OEMs (original equipment manufacturers) fighting each other a little bit more now."
Dominique also thinks the pent up demand that has driven sales is starting to ease. People have been replacing cars and trucks they kept through the recession and the slow recovery. The average age of a vehicle on U.S. roads today is a record 11.4 years according to the Polk research firm.
In December automakers raised rebates and other incentives as they pushed to make year-end sales goals. Average incentives were up 4 percent compared with a year ago to $2,676 as Ford, Hyundai/Kia and Honda led the way with sweet deals, according to the TrueCar.com auto pricing site.
Ford raised incentives a whopping 22 percent as it sparred with Chevrolet and GMC over pickup truck sales and battled for small-car buyers, Dominique said. Hyundai/Kia incentives were up nearly 18 percent, while Honda raised its deals by almost 15 percent, according to TrueCar. Ford Focus buyers, for instance, could get as much as 25 percent off the sticker price, according to Dominique. Only Chrysler, which traditionally has had high incentives, cut them in December, by 9 percent.
December started off slow because buyers went shopping in November, drawn by offers on Black Friday — the day after Thanksgiving. But Jeff Schuster, senior vice president of auto sales forecasting for LMC Automotive, an industry consulting firm, said he expected a strong close to the year despite cold and snowy weather in much of the country.
As growth slows and automakers try to protect sales and market share, Dominique said consumers should look for deals this year, especially on pickup trucks and midsize cars.
Ford's F-series pickups, the top-selling vehicles in the U.S., are in their last year before a revamp, but they're competing with new General Motors pickups, Dominique said. As a result, Ford has been aggressive on incentives and GM has responded, he said.
In midsize cars, buyers are leaving the segment for small crossover SUVs. That's putting pressure on companies like Hyundai and Kia, which have seen their market share drop, Dominique said. This means there could be price wars in both segments, he said.
Complicating the equation is falling used-car prices caused by rising inventory, Dominique said. Lower prices make used cars attractive to buyers, but they also cut into trade-in values.
---
More from MBTMag.com
CEO Predictions For The Next 100 Years Of Flying
Retirement Unlikely For Some Blue-Collar Americans
N.C. To Privatize Efforts For Wooing Manufacturers
Explore more news
here
.