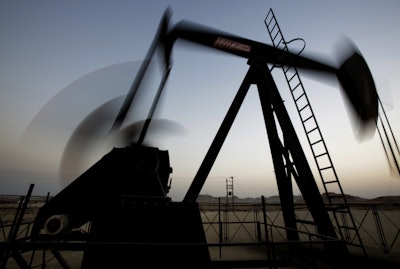 NEW YORK (AP) — The price of oil took another dive Wednesday, plunging to five-year lows amid mounting evidence that global supplies are far outstripping demand.
The U.S. Energy Department reported a surprise increase in domestic oil inventories and OPEC projected that demand for its crude would sink next year to levels not seen in more than a decade.
Benchmark U.S. crude slumped 4.5 percent, or $2.88, to close at $60.94 a barrel on Wednesday. Prices have not been that low since July of 2009. U.S crude prices have fallen 17 percent in two weeks and are now 43 percent below the $107.26 that a barrel fetched at its peak this year.
Brent crude, an international benchmark used to price oil used in many U.S. refineries, fell $1.95 to close at $64.24 in London.
Energy analyst and trader Stephen Schork said in an interview that he expects that the combination of weak economic news out of Asia and growing global supplies will push oil down further, to below $60, by the end of the week. "It's the proverbial 'trying to catch a falling dagger' and I'm not going to try to catch it," he said.
OPEC said Wednesday that it expects demand for its crude to fall to 28.9 million barrels per day next year, 400,000 barrels per day less than in 2014. The cartel's official production target is 30 million barrels a day, which would mean far more oil on the world market than is being consumed.
Also on Wednesday, the Energy Department reported a surprise increase in U.S. crude supplies of 1.5 million barrels last week. Analysts were expecting a decline of 2.2 million barrels. Gasoline stocks also increased more than expected.
Falling oil prices are making for sharply lower prices of gasoline, diesel, jet fuel and heating oil, giving consumers, shippers and airlines a lift.
Economists say lower gasoline prices act like a tax cut, leaving more money in consumers' pockets to spend on other things. The national average price of gasoline fell Wednesday to $2.64, according to AAA, saving drivers $1.05 per gallon compared to what they were paying in late June.
The Energy Department projected in a report Tuesday that gasoline will average $2.60 per gallon next year, 23 percent below this year's projected average. If that comes to pass, it will save a typical household $550 next year.
Lower oil prices are taking their toll on oil producers, though, sending company shares plummeting and forcing companies to cut spending. BP said Wednesday it would aim to cut costs by $1 billion next year, a move that would likely involve significant job cuts.
In other futures trading on the New York Mercantile Exchange:
— Wholesale gasoline fell 8.2 cents to close at $1.642 a gallon.
— Heating oil fell 3.8 cents to close at $2.046 a gallon.
— Natural gas rose 5.4 cents to close at $3.706 per 1,000 cubic feet.
---
More from MBTMag.com
Detroit Bankruptcy Officially Ending
TN Governor Questions UAW Process At VW
Court: No Pay For Amazon Warehouse Security Checks
Explore more news
here
.