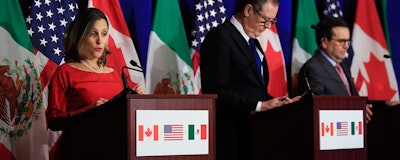 WASHINGTON (AP) — Treasury Secretary Steven Mnuchin says efforts to renegotiate a trade agreement with Canada and Mexico could spill into next year.
The Trump administration missed an informal deadline last Thursday that had been set by House Speaker Paul Ryan to get a revamped North American Free Trade Agreement to Congress in time for lawmakers to vote on it in a midterm election year.
Mnuchin says on "Fox News Sunday" that the negotiators are "still far apart" but continue to work through many issues.
Mnuchin says President Donald Trump is more determined to get a deal he believes is good for the U.S. than he is worried about meeting a specific deadline.
Trump has long said NAFTA was bad for the U.S. and its workers.