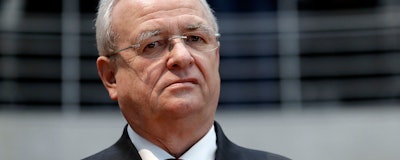 DETROIT (AP) — A federal grand jury in Detroit has indicted former Volkswagen CEO Martin Winterkorn on charges stemming from the company's diesel emissions cheating scandal in a plot that prosecutors allege reached the top of the world's largest automaker.
The four-count indictment unsealed Thursday charges Winterkorn, 70, with three counts of wire fraud and one of conspiring with other senior VW executives and employees to violate the Clean Air Act. He was indicted in March.
Volkswagen has admitted to programming its diesel engines to activate pollution controls when being tested in government labs and turning them off when on the road.
Winterkorn faces up to five years in prison and a $250,000 fine on the conspiracy charge and up to 20 years in prison and a $25,000 fine on the wire fraud charges. He is the ninth person charged by U.S. authorities in the case. Two have pleaded guilty and are serving jail time, while six others remain in Germany.
"Volkswagen deceived American regulators and defrauded American consumers for years," Matthew Schneider, the U.S. Attorney for the Eastern District of Michigan, said in a statement. "The fact that this criminal conduct was allegedly blessed at Volkswagen's highest levels is appalling."
The U.S. government believes Winterkorn is in Germany, so it's unlikely he'll ever see a U.S. courtroom or jail. Germany's constitution forbids extradition of its citizens other than to another European Union member state or to an international court.
He still could be charged in Germany, however. Prosecutors in the city of Braunschweig said in January of 2017 that Winterkorn was among 37 suspects being investigated in a criminal probe related to the emissions scandal. Prosecutors' statement said they were investigating him on suspicion of fraud and false advertising.
Winterkorn testified in the German parliament that he didn't learn of the problem until shortly before U.S. investigators announced it in September of 2015.
The indictment alleges that Winterkorn was told of the emissions cheating in May of 2014 and again in July of 2015, yet "agreed with other senior VW executives to continue to perpetrate the fraud and deceive U.S. regulators."
The plot was discovered when the International Council on Clean Transportation, which works with governments to control emissions, paid for emissions testing on two diesel VWs. The study of on-road performance found that one emitted up to 35 times the allowable amount of toxic nitrogen oxide.
According to prosecutors, Bernd Gottweis, senior VW manager then responsible for product safety, met with engine development employees and learned about the ICCT study. On May 22, 2014, he wrote a one-page memo describing the test results and warning that VW could not explain the increased pollution. The memo was attached to a cover note authored by another senior executive and was addressed to Winterkorn, prosecutors allege.
Gottweis is among those previously indicted.
Even after the ICCT study, VW continued to deny that its cars were programmed to cheat, the indictment alleges.
Earlier Thursday, Volkswagen's new CEO, Herbert Diess, vowed to build a more ethical culture and outlined a new structure aimed at streamlining decision-making at the sprawling company.
Diess said at a shareholder meeting that company's six divisions would make their own decisions and without always getting approval from the top.
He said that while cases of unethical conduct can happen anywhere, "we definitely had too many of them." He said achieving a stronger ethics culture was a core business goal, "just as are vehicle development and marketing."
Diess was addressing his first shareholder meeting since taking over as CEO from Matthias Mueller on April 12.
Despite heavy outlays for fines and penalties, the company has 24 billion euros in net cash and achieved record sales of 10.74 million vehicles last year. "Two years ago, no one would have believed it, perhaps even we would not have," Diess said.
The U.S. Environmental Protection Agency determined in 2015 that Volkswagen manipulated software so that diesel emissions controls worked only when cars were on test stands. Otherwise they continued to emit harmful nitrogen oxide in excess of legal limits. The company also was widely criticized for conducting experiments in which monkeys were exposed to diesel fumes in an unsuccessful attempt to prove the diesel technology was safe.
Board Chairman Hans Dieter Poetsch condemned the monkey experiments in his speech. He said they were under investigation and "in no way comprehensible."
He told the shareholder meeting that the company still faces several legal issues from the diesel scandal and that the company "cannot draw the line under it" yet. Those include a shareholder lawsuit before a court in the German town of Braunschweig that alleges company officials were too slow in disclosing the scandal, depriving investors of information they needed to make decisions about their holdings.
U.S. authorities said they are still investigating the VW case, and the company said in a statement that it continues to cooperate with the probe into the "conduct of individuals."
VW pleaded guilty last year to criminal charges of deceiving U.S. regulators and paid a $2.8 billion criminal penalty.
____
McHugh reported from Frankfurt, Germany.