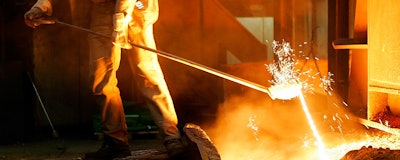 BERLIN (AP) — U.S. President Donald Trump risks sparking a trade war with his closest allies if he goes ahead with plans to impose steep tariffs on steel and aluminum imports, German officials and industry groups warned Friday.
Trump, who has long railed against what he deems unfair trade practices by China and others, said Thursday he planned to levy penalties of 25 percent on imported steel and 10 percent on aluminum imports from next week.
The president shrugged off worries of a trade war in an early Friday morning tweet, saying "when a country (USA) is losing many billions of dollars on trade with virtually every country it does business with, trade wars are good, and easy to win."
Chancellor Angela Merkel's spokesman Steffen Seibert said the tariffs would hurt international commerce and that the U.S. would not solve issues of global overcapacity of both steel and aluminum with "unilateral measures."
A short time later, following Trump's tweet, Seibert that Germany's "position hasn't changed in the last 18 minutes."
Trump's announcement Thursday has hit markets hard, and global indexes tracked Wall Street lower on Friday — Germany's DAX index, for example, was down 2 percent in midday trading in Frankfurt amid trade war fears.
"Markets are clearly concerned that Trump's move to impose tariffs will spark retaliation from other countries or trade blocs, which could be the start of a trade war," said Bas van Geffen, an analyst at Rabobank.
German producers would clearly be impacted by any U.S. tariffs, as they account for about 4 percent of U.S. steel imports. Foreign Minister Sigmar Gabriel said the announcement raised "serious concerns" and that a blanket duty would punish everyone.
"Unlike possibly other countries, there's no unfair competition or dumping prices from German or European firms," he said.
He urged Trump to reconsider, suggesting that a trade war between allies would harm both sides.
"The threat of difficult trade strife between the U.S. and Europe is neither in the interest of Europe or the U.S. As the saying goes: 'when two fight with each other, it pleases the third,'" he said without naming any specific countries.
Overall, the 28 EU nations make up nearly 21 percent of U.S. steel imports, according to the German Steel Federation, and Gabriel said the tariffs could "endanger thousands of jobs in Europe."
Hans Juergen Kerkhoff, president of the German Steel Federation, said the tariffs would violate World Trade Organization rules and urged the EU to take action.
Only about five percent of German steel exports go to the U.S., but he warned there could be a knock-on effect contributing to "a rise of protectionism worldwide."
Increased foreign production, especially by China, has driven down prices and hurt U.S. producers, creating a situation the U.S. Commerce Department has called a national security threat.
WTO spokesman Dan Pruzin told reporters in Geneva that the agency has never had to deal with a case challenging any member's right to invoke the organization's exception allowing tariffs in cases of national security.
"If any of our members have any concerns about any actions adopted by another member, they can raise this in the WTO," he said, refusing to comment directly on Trump's plans.
Economy Minister Brigitte Zypries warned that the EU would "answer accordingly" if the U.S. went ahead with its plans.
"Someone who talks as much about fair trade as President Trump should not resort to such unfair measures," she said.
Seibert, Merkel's spokesman, said EU authorities were in contact with their counterparts in Washington and had made clear their concerns about the proposed tariffs, and what their "necessary reaction" would be.
"The German government will look very closely at this decision and then assess the impact on the German and European economies," he said.
Dieter Kempf, head of the Federation of German Industries, urged all sides to "keep a cool head in order not to unnecessarily fuel an escalating trade conflict on a global scale."
"There's too much at stake," he said. "Nobody is an island, the global economy is closely networked and a new wave of protectionism would quickly hit Germany as a trading nation."
_____
Frank Jordans in Berlin and Jamey Keaten in Geneva contributed to this report.