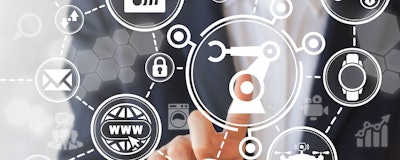 Plex Systems, a Cloud ERP provider, has announced the release of its Definitive Guide to Connected Manufacturing. With industry insights from Mint Jutras, LNS Research and Deal Architect Inc., the free book addresses today's manufacturing challenges surrounding changes in customer demands and technology in a growing global economy.
"Manufacturers focused on connecting operational and business processes, people and systems globally are hands down leading the industry," said Chris Bishop, vice president of global services at Plex Systems, in a press release. "A connected enterprise gives leaders the insights, access and shop floor control to be competitive and agile when responding to customer needs and pursuing new opportunities."
The guide provides guidance for choosing and deploying connected manufacturing solutions, along with proven models for success. The report looks at how manufacturers can connect machines, suppliers, customers, systems and people to reduce operational costs and focus on continuous innovation and business growth.
"The most successful manufacturers have learned to expect the unexpected," said Cindy Jutras, president of Mint Jutras, in the same press release. "They have learned how to be agile. They have learned how to be connected."