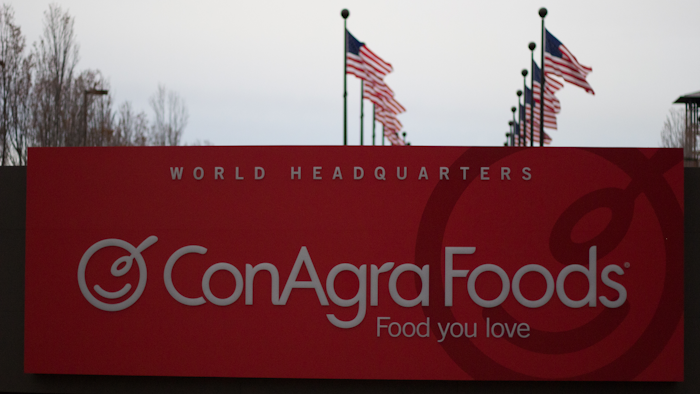 OMAHA, Neb. (AP) — ConAgra will cut about 1,500 jobs, or approximately 30 percent of its global, office-based workforce, and move its headquarters to Chicago from Omaha, Nebraska, the company said Thursday.
About 700 workers will be in Chicago starting next summer, including the company's senior leadership as well as some operations for its consumer foods segment that are situated in Omaha and Naperville, Illinois. The company will maintain a significant presence in Omaha with about 1,200 employees, ConAgra said. Those workers will be involved in research and development, supply chain management and some key administrative functions.
The company has around 3,000 employees at its headquarters in Omaha, in Lincoln, and across the Missouri River in Council Bluffs, Iowa.
The Naperville office, about an hour southwest of the Chicago, will close and between 320 and 350 jobs from there will move to the city after the cuts.
ConAgra, which makes Chef Boyardee, Slim Jim and Hebrew National hot dogs, said the job cuts exclude plant positions and do not include any impact from the planned sale of its private label operations. It anticipates about $345 million in one-time charges over the next two to three years related to the restructuring.
"It is critical that we run as lean and as efficient and as effective as possible," ConAgra spokesman Jon Harris said.
The jobs being eliminated are primarily redundant positions or jobs that will be outsourced, ConAgra said Thursday.
The changes should create about $200 million in cost savings, with more than half of that realized by the end of fiscal 2017, according to ConAgra. The balance should be achieved in the following year. The company said the savings are in addition to approximately $150 million in cost cuts over the last two years. It anticipates the plans giving a "modest benefit" to fiscal 2016 earnings.
ConAgra reported a first-quarter loss of $1.2 billion last month. The company has been pressured by a major stockholder, Jana Partners, which says ConAgra's results have been disappointing since it bought Ralcorp for $5 billion two years ago. ConAgra said in June that it will sell the unit so that it can better focus on improving its own name brands.
Omaha, civic and business leaders have acknowledged that the loss of ConAgra's headquarters will be a blow to the region. Gov. Pete Ricketts and Omaha Mayor Jean Stothert had been in talks with ConAgra about incentive packages to keep the company in the city.
ConAgra was founded in 1919 and moved to Omaha in 1922. It developed its current headquarters complex of five office buildings and parking along the Missouri River after threatening in 1986 to leave the state for Tennessee.
At that point, Nebraska approved a package of tax incentives and exemptions to keep ConAgra in Omaha, and the city demolished a historic warehouse district to make way for the headquarters.
ConAgra plans to continue using its sprawling campus downtown, but after the cuts are made some of the space might be leased to other businesses, company spokeswoman Lanie Friedman said.
Stothert met Wednesday with ConAgra CEO Sean Connolly, and she told the Omaha World-Herald afterward that, "I didn't hear what I wanted to hear."
ConAgra has been a major investor in every major community initiative over the years, so losing their headquarters will hurt, said David Brown, president of the Greater Omaha Chamber of Commerce.
But Brown pointed out that Omaha's business community remains strong with four companies listed in the Fortune 500.
___
AP Business Writer Michelle Chapman contributed from New York and AP Writer Nelson Lampe contributed from Omaha, Nebraska.