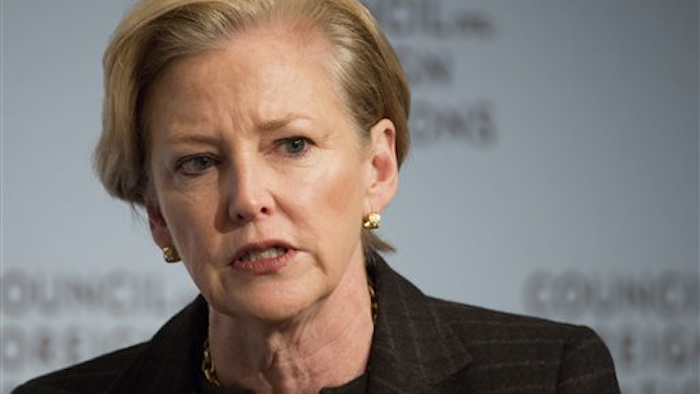 DOVER, Del. (AP) — The DuPont Co. on Monday announced that CEO and Chairwoman Ellen Kullman, who earlier this year fought off a bruising challenge from a major activist investor, will retire at the end of next week.
The maker of everything from Pioneer agricultural seeds to Kevlar fabric also lowered its profit forecast and said it is accelerating its cost-cutting plan.
Edward Breen, who was named to DuPont's board in February, will serve as Kullman's interim replacement while the company searches for a permanent successor.
Kullman, 59, took over the CEO job at DuPont in 2009. The final months of her tenure were marked by the battle with activist investor and major shareholder Nelson Peltz, whose Trian Fund had sought more influence at DuPont, saying that the company was falling short of its potential.
In June, DuPont shareholders rejected Peltz's contentious campaign for seats on the board of the 213-year-old company.
DuPont eventually spun off its performance-chemicals unit earlier this summer into a separate business named The Chemours Co.
The Wilmington, Delaware, company also lowered its profit outlook again on Monday, saying it now expects operating earnings per share for the full year of about $2.75, compared with prior guidance of $3.10. In July, it cut its full-year outlook to $3.10 per share from $4. Analysts surveyed by FactSet expect annual earnings per share of $3.19, on average.
The lowered outlook reflects continued strengthening of the U.S. dollar versus currencies in emerging markets, particularly in Brazil, and a further weakening of agricultural markets, also primarily in Brazil, the company said.
DuPont now expects second-half operating earnings per share of about 40 cents, down from its prior guidance of 75 cents.
The company also said it was moving up by one year its target of cutting expenses by $1.3 billion on a run-rate basis, to the end of 2016. It's targeting $1.6 billion in cost-savings on a run-rate basis by the end of 2017. It did not detail its actions but said it would finalize its cost-cutting plans in the fourth quarter.
DuPont shares have declined 27 percent in the year to date.
In after-hours trading the stock rallied 6 percent, or $3.06, to $54.34.