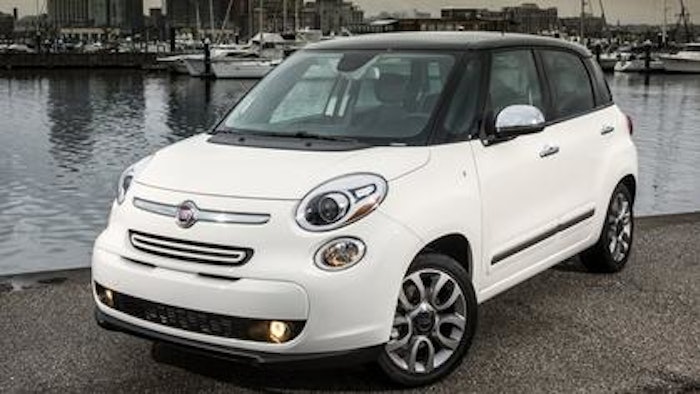 It doesn't sound like much: An extra 27.7 inches of length, nearly 6 more inches of height, two additional doors and four more panels of window glass on a small car badged "Fiat 500L".
But the not-quite-14-foot-long, four-door, new-for-2014 Fiat 500L is a unique small car ride — odd to some, stylish to others, and more spacious inside than just about anyone expects.
The interior airy feel — some might liken it to riding in a bubble — is especially noticeable when the interior is splashed with outside light from a roof-size, optional, power sunroof.
Also noteworthy: The 500L's high seat positions and big door openings that make for easy entry and exit. These can make the 500L comfortable for someone suffering back pain and who winces at the thought of getting in and out of a regular car.
Best of all, this largest version of a car badged as a Fiat 500 to come to America is affordably priced.
Starting manufacturer's suggested retail price, including destination charge, is $19,900 for a base, front-wheel drive, 2014 500L Pop model with 160-horsepower, turbocharged, four-cylinder engine and traditional-operating, six-speed manual transmission. This base model includes air conditioning as well as cruise control, remote keyless entry, heated outside mirrors, power windows, power door locks and seven air bags.
The lowest starting retail price for a 500L with a six-speed, Euro-twin clutch that a driver can operate like an automatic transmission is $22,345 because buyers must move up to a 500L Easy model.
A conventional six-speed automatic is planned to be available on the 500L during the 2014 model year. Its pricing is not yet released.
In comparison, a base, 2013 Fiat 500 — without the additional space of the L and with just two side doors — is $16,900 with 101-horsepower, four-cylinder engine and manual transmission.
Competitors to the 500L include other small, tall, five-door hatchbacks.
For example, the front-wheel drive, 2014 Kia Soul has a starting retail price of $15,495 for a base model with 130-horsepower, four-cylinder engine and six-speed manual.
The base, front-wheel drive, 2014 Mini Cooper Countryman with a starting MSRP, including destination charge, of $22,895 has a 121-horsepower, four-cylinder engine and six-speed manual transmission.
While the 500L carries the 500 name, it uses a different "small-wide" architecture than the smaller Fiat 500, so it's not exactly a blimped-up 500.
Another distinction: The 500L is built in Serbia, not the Mexico assembly plant that produces the 500 for U.S. consumers.
While the 500L has the face of its smaller namesake, it's on a larger hood and body and arguably just isn't as cute and endearing as the smaller Fiat 500.
Indeed, pictures of the 500L don't do it justice. People have to see this car in person to grasp that at 5.5 feet tall, it's 9.2 inches taller than a Honda Civic sedan, taller than the Countryman and Soul and even a tad taller than a Honda CR-V sport utility vehicle.
Inside, the 500L shows both styling innovation, with its "hip," modern seats, intriguing shapes and sizing for such things as parking brake lever and steering wheel, and amazing roominess.
The 23.1 cubic feet of cargo space aft of the back seats is about on par with the Kia Soul's and more than the Countryman's. When rear, split seats fold down and out of the way, cargo space in the 500L nearly doubles.
Rear-seat legroom can be impressive, too, as both front and rear seats can move forward and back on lengthy tracks and the rear floor is mostly flat. Three passengers can really sit in back and all have adjustable head restraints.
Side windows on the four 500L doors are sizable and can come down below shoulder level even when a petite driver sat on the driver's seat.
Additional window panels at the four corners of the car attract attention right away, because they are where thick, metal pillars usually are positioned in cars. These windows greatly enhance visibility around the 500L and are part of the style statement.
One nit: The window glass in the test 500L Lounge had a slight imperfection in the middle that blurred the view.
The tester had a full-roof sunroof, with dual glass panes and a fabric shade — all power-operated. Even with the shade in place, the interior was light and bright.When the fabric moved out of the way, there was more headroom for tall passengers. But the glass in this $950 optional sunroof only opened to the outdoors above the front seats. Back seat riders had stationary glass above their heads.
The ride is firm, not isolating, and can be noisy, with the engine readily heard. In curves and turns, there's body lean in the tall 500L.
The only engine is the 1.4-liter, single overhead cam, MultiAir turbocharged four cylinder that is also used in the sporty version of 500, the Fiat 500 Abarth. In the 500L, this powerplant delivers peak torque of 184 foot-pounds between 2,500 and 4,000 rpm.
The numbers sound good, but the test car often lagged for a bit when the driver demanded acceleration. Then, a burst of speed hit as the turbo kicked in. This was with the six-speed, Euro-twin clutch, that doesn't require a clutch pedal.
Federal government fuel economy ratings are best with the regular, six-speed manual transmission: 25 miles per gallon in city driving and 33 mpg on highways for a combined 28 mpg.
This compares with the 25/30-mpg rating for the Mini Countryman with base engine and the 24/30-mpg rating for a 2014 Kia Soul.
The tester earned a commendable 28 mpg in mostly highway driving and 23.2 mpg in mostly city driving.