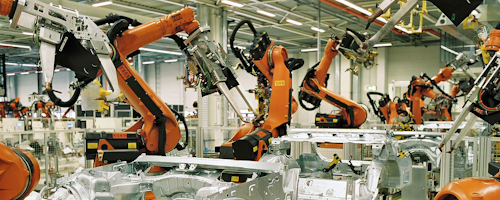 Factory robots could be vulnerable to a variety of cyberattacks, according to a recent analysis by a Japanese security software company.

The study conducted by Trend Micro identified numerous weaknesses in the implementation and architecture of a working industrial robot in a laboratory setting.

Researchers said that software used to operate industrial robots is often outdated, reliant on weak authentication or based on vulnerable operating systems or libraries. In addition, tens of thousands of industrial devices are currently housed on public IP addresses vulnerable to hacking.

"We were able to determine five classes of attacks that are possible once an attacker is able to exploit any of the several weaknesses that we found," Trend Micro analysts wrote in the study.

An attack on the robot's control system or calibration, the authors wrote, could make robots move inaccurately or unexpectedly. Hackers could also conceal the robot's status to its operator or introduce defects into its operations.

Consequences could include defective products or stalled production, as well as data theft, ransomware-type schemes or even injuries to human workers.

"Industrial robots are expected to perform with a high degree of safety, accuracy and integrity," researchers wrote. "Any violation of these operational requirements, if initiated through a digital attack, can allow a cyber attacker to take control of a robot."

Trend Micro wrote that standards for industrial robot makers must address cyber security and that software vendors must be able to provide security over the long lifespans of factory robots.

Manufacturers, meanwhile, must commit to keeping their software up to date despite concerns that the update process could impact production.

The vendors that partnered with Trend Micro during the study, the company reported, took the results "very responsibly" and indicated "a positive attitude toward securing the current and future generation of industrial robots."