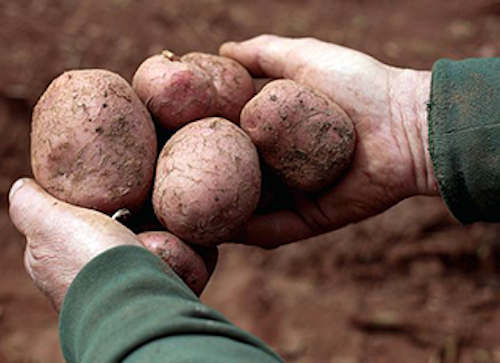 MINNEAPOLIS (AP) — Minnesota officials on Thursday put the brakes on the conversion of pine forests to potato fields in the northwestern part of the state while they conduct an environmental review on potential threats to groundwater, fish and wildlife.
Fargo, North Dakota-based potato giant R.D. Offutt Co. has purchased about 12,000 acres of pine forests in four Minnesota counties with plans to clear and convert them into irrigated farmland for potatoes and other rotational crops, the state Department of Natural Resources said. Some of the land has already been cleared, and the agency estimates that an additional 15,000 acres of pine forests in the region could be sold and converted to potatoes and other rotational crops.
Altogether, the agency said in a statement, about 42 square miles of pine forests have been cleared or are at risk of being cleared. The agency said the current rate of forest loss in the region has not been seen in recent memory.
R.D. Offutt has asked the agency for permits to drill more wells to irrigate its new and future croplands. But the DNR said its environmental review will put those permits and any further land clearing on hold. The review could take nine months to a year, agency Commissioner Tom Landwehr said in a conference call with reporters.
R.D. Offutt is the nation's largest potato grower and is major supplier of potatoes that become french fries at McDonald's and other fast food restaurants as well as potato chips.
Company officials did not immediately return calls from The Associated Press seeking comment, but Landwehr said they were disappointed when a DNR staffer informed them about the review Thursday morning.
The forests are in an area called the Pineland Sands Aquifer. Its sandy soils are highly permeable to agricultural fertilizers, raising the risks of nitrate contamination of ground and surface waters in the area, which drains into the Mississippi River.
Landwehr said the R.D. Offutt has done "some amazing things" to reduce its environmental impact in the area and that his decision to order the review should not reflect negatively on the company. But he said the agency needs to get a better handle on the cumulative impacts before it issues more well permits.