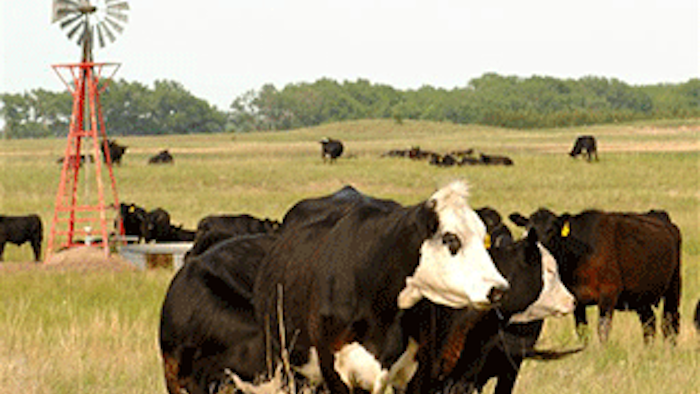 DENVER (AP) — Authorities are investigating whether any of the workers at a Colorado dairy farm filmed kicking and hitting cows should be charged with a crime. But they could have a hard time finding the workers and prosecuting them if they do.
The undercover video, released Thursday by the Los Angeles-based group Mercy for Animals, shows clips of workers at Cactus Acres Holsteins in Fort Morgan individually kicking and jabbing the cows with metal poles, sometimes in their udders, pulling their tails and slamming milking apparatus into them as the cows are lined up in stalls to be milked. The video was made from about 300 hours of footage filmed by a Mercy for Animals employee who worked at the farm from March through May 20 and then turned over to the Morgan County Sheriff's Office.
Investigators have identified about a dozen workers — people shown in the video and identified by the undercover worker — accused of abuse, Sheriff Jim Crone said Friday. The owners of the dairy, who have fired five workers and ordered additional training for seven others, have been providing information about the workers, some of whom were only identified by first names by Mercy for Animals. Farm workers are often transient and those who were fired may be long gone, Crone said.
The farm, which has about 2,500 cows, is owned by Jim and Marie Goedert and a member of the Kansas City-based cooperative Dairy Farmers of America. The farm has been placed on probationary status following an audit by an outside group and must complete a corrective action plan, Dairy Farmers of America spokeswoman Monica Massey said.
Crone, along with the cooperative, question why Mercy for Animals waited so long to report the abuse, which they say allowed the practices to continue and could make it harder to press possible charges.
Mercy for Animals says it has to document abuse long enough to know the extent of abuse at an operation. Spokesman Matt Rice said the abuse found at the farm is similar to that found in its previous dairy investigations, including at a southern New Mexico dairy last year, which he blamed on a lack of training for workers who are pushed to hurry cows through milking.
"This is an industry-wide problem that needs to be addressed by the industry," Rice said.
Animal behavior expert Temple Grandin, a Colorado State University professor, said the video shows abuse, not just rough handling. She said cows need to learn how to be lined up and milked by machines in what is called a milking parlor, and usually younger animals will follow the lead of more experienced cows in learning how to behave.
"It was definitely not acceptable what they were doing," she said.