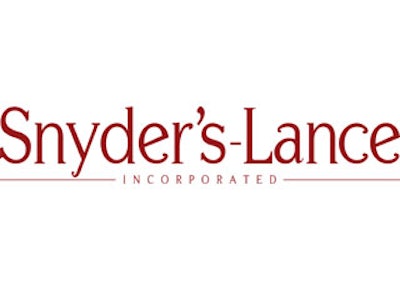 CHARLOTTE, N.C. (AP) — Snyder's-Lance Inc.'s shares fell Wednesday after the food maker's third-quarter revenue fell short of analyst estimates.
The company, based in Charlotte, N.C., makes snack foods such as Cape Cod chips and Snyder's of Hanover pretzels.
Snyder's earned $17.8 million, or 26 cents per share, for the quarter that ended Sept. 29. That's up from $8.8 million, or 13 cents per share, earned in the same quarter last year. After adjusting for acquisition-related expenses and other special items, it earned 28 cents per share versus 16 cents per share.
Its revenue fell to $406.6 million from $421.9 million.
Analysts polled by FactSet had expected the company would earn 26 cents per share on revenue of $411.3 million.
Snyder's said sales of its core brands, such as Snyder's of Hanover pretzels, Lance crackers and Cape Cod kettle chips, increased. However, sales of its non-branded products fell after some customers did not accept price increases, which hurt the company's revenue but improved its profit margins.
Snyder's said it expects its earnings per share will increase between 30 to 35 percent year-over-year and its revenue will be flat to down about 2 percent. That calculates to revenue between $1.6 billion and $1.64 billion; analysts had forecast revenue of $1.63 billion.
Shares fell $1.38, more than 5 percent, to $24.20 by midday. Its shares remain in the middle of its 52-week trading range of $18.78 to $27.09.