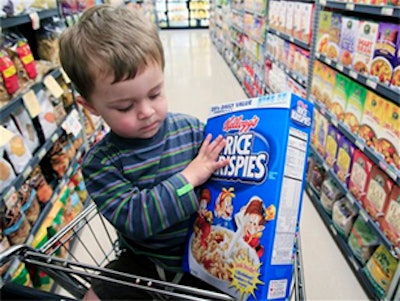 In this Tuesday, May 3, 2011, file photo, Evan Olmstead, 2, looks at Kellogg's Rice Krispies cereal at Piazza's grocery store in Palo Alto, Calif.. Kellogg Co. reports quarterly earnings on Thursday, Aug. 1, 2013. (AP Photo/Paul Sakuma, File)
NEW YORK (AP) — Kellogg Co.'s profit rose in the latest quarter, but its revenue fell short of expectations as its breakfast business struggled.
The maker of Frosted Flakes, Pop Tarts and Eggo waffles said Thursday that its North American sales rose in the quarter, helped by its specialty foods and the acquisition of Pringle chips last year. But the key morning foods unit saw a 3.3 percent decline, even as the company tried to get Americans to eat more cereal.
Details weren't immediately available on which products dragged down results in the morning foods unit.
But Kellogg, based in Battle Creek, Michigan, has been fighting to increase cereal sales as people move toward on-the-go meals in the mornings. General Mills, which makes Cheerios, is facing a similar problem and is deploying a variety of tactics such as marketing children's cereal to adults by playing on their nostalgia for brands such as Lucky Charms.
Back at Kellogg, CEO John Bryant has noted in the past that the company needs to play up the nutritional benefits to get baby boomers and higher-income people to eat more cereal. That's why the company recently introduced Raisin Bran with omega-3 and a multigrain version of Special K.
To expand into the salty snacks business, the company last year bought Pringles chips. The deal is also intended to give the company greater international reach, since Pringles gets about two-thirds of its revenue from overseas.
In its relatively smaller international unit, Kellogg said the Latin American business saw sales growth of 11.3 percent while Europe saw a 17.9 percent increase for the quarter, both helped by acquisitions. The Asia segment saw a sales increase of 10 percent.
For the quarter ended June 29, Kellogg earned $352 million, or 96 cents per share. That compares with $324 million, or 90 cents per share, a year ago.
Not including one-time items, it earned $1 per share, more than the 98 cents per share analysts expected.
Revenue rose to $3.71 billion, short of the $3.8 billion Wall Street forecast.
The company also cut its expectations for sales growth for the year to 5 percent from 7 percent but stood by its earnings projections. Kellogg expects earnings between $3.84 and $3.93 per share.
Its stock closed at $66.24 Wednesday; the shares are up more than 38 percent over the past year.