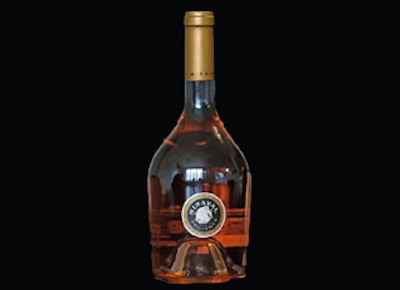 PARIS (AP) — Nine little letters on the back of the bottle set this rose wine apart from other fruits of the Provence grape harvest: Jolie-Pitt.
The Miraval Rose 2012 was produced at the southern French estate of Chateau Miraval — property of Brad Pitt and Angelina Jolie.
It's the first Miraval vintage stamped by the Hollywood couple, in a joint venture with established vintner Marc Perrin. The back label reads "bottled by Jolie-Pitt and Perrin."
The Perrin family spokesman says the first 6,000 bottles put on sale online Thursday were bought within five hours. The wine sold for €105 ($139) for a 6-bottle case.
There was no immediate comment from publicists for Pitt and Jolie.
The wine, in a bottom-heavy, champagne-like bottle, goes on sale to restaurants and wholesalers later this month.