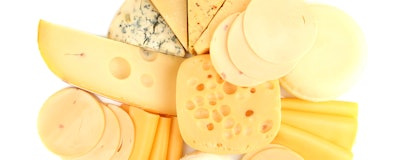 NEWTON, Iowa (AP) — Owners of the Maytag Dairy Farms said they have plans to restart production at their Newton cheese plant, which has been shuttered for more than 10 months after a listeria contamination last February.
The company also has rolled out a new product to boost holiday sales.
While on long-term hiatus, the 75-year-old company has been "completing significant renovations and remodeling our small cheese plant in an effort to meet and exceed new regulatory requirements mandated by the federal Food Safety Modernization Act," said John Dannerbeck, chairman of the Maytag Dairy Farms board of directors.
"We're very excited and very optimistic," Dannerbeck said. "We are going to be stronger than ever."
The Des Moines Register reports there's no specific date for getting production back on track, but Dannerbeck estimated that it would be early next year.
"The silver lining to all this is that we've been able to do significant work to adapt to new food safety standards," he said.
Maytag voluntarily recalled about 900 pounds of cheese in early February after the state Dairy Products Control Bureau discovered listeria contamination during routine testing. The cheese had been distributed to restaurants and stores in Iowa, including Hy-Vee, Fareway and other states.
"While we now know this was a very isolated occurrence and there was no widespread problem, we believe our decision to vastly expand the recall, though expensive and immensely complicated, was the prudent decision at the time," the company said in a statement late last week.
Customers supported the company, and "many turned down our refund offer," it said.
Dannerbeck said the company decided to continue paying their roughly 100 workers full salary and benefits during the shutdown.
"We never had any doubt we would be back in business," he said.
Maytag has been selling products made by other cheese makers online and at its retail store at the farm, which is helping bridge the gap until its production resumes, said Dannerbeck, whose grandfather Fred Maytag started making the small-batch blue cheese by hand in 1941.
The Maytag family was best known for making washing machines at its former Newton Maytag Corp. plant.
Dannerbeck said he is most excited about a new product called La Petite Blue that Maytag is making with the help of Reichert's Dairy Air farm near Knoxville. The soft, ripened cheese has a hint of blue mold, similar to Maytag blue cheese but milder, and is made with milk from Pickett Fence Creamery in Woodward, said Dairy Air owner Lois Reichert.
"It's an homage to Maytag blue cheese," she said.
Maytag sent three cheese-makers to Reichert's farm to help make 2,000 to 3,000 pieces of La Petite Blue, she said. It takes about two weeks to make the specialty cheese, with an 8-ounce chunk selling for $25 under the Maytag label.
Dairy Air's main business is making classic and flavored Chevre and feta cheeses, with milk from goats it raises at the farm.
Reichert said her collaboration with Maytag for the limited-supply La Petite Blue has been "a bonus" for her business. Her main selling season ceases when the farmers' markets close down, so this is giving her business a boost over the holidays, she said.
Reichert hopes to continue working with Maytag after it restarts production in Newton.
Mike Bandstra, who owns Frisian Farms Cheese House in Leighton with his brother Jason, also is selling its Gouda cheeses through Maytag's website this holiday season.
He expects to sell about 500 pounds to Maytag this year, which is a nice bump for the 7-year-old business. Frisian sells about 50,000 pounds of cheese to stores in the Midwest.
Dannerbeck said Maytag Dairy Farms has long had agreements with other cheese companies to sell their products in gift boxes online, along with the Maytag blue cheese, which he expects will be available again in the spring.
The company should not have issues with re-establishing its customer base, said Bryan Friedman, director of finance and development for the city of Newton.
Maytag blue cheese is known worldwide, Friedman said.
"Its product is something people clamor for," he said.
Before Maytag's production can resume, a full inspection would have to be completed at the cheese plant, said Dustin VandeHoef, a spokesman for the Iowa Department of Agriculture and Land Stewardship. The state has inspected and signed off on the company's retail space, he said.