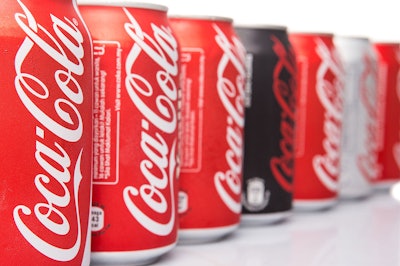 NEW YORK (AP) — Coca-Cola CEO Muhtar Kent will step down from that role next year and be succeeded by the company's No. 2 executive, at a time when people are drinking less sugary soda including its flagship Coke drink.
Chief Operating Officer James Quincey, long expected to become the next CEO, will take over leadership of the world's largest beverage maker on May 1, the company said Friday. Kent will remain as chairman of the board.
Quincey, who's worked at Coca-Cola for about two decades, has led its drive to cut down the sugar in its drinks and said Friday that he'll continue to do that as CEO. He also said he'll keep pushing for more low-calorie beverages and for offering soda in smaller cans and bottles.
He said he wants to "stay relevant" with customers by continuing to "digitize" the business, selling Coca-Cola's drinks online, through food delivery companies and any other platform customers go to in the future.
"The iPhone didn't exist when Muhtar became CEO," Quincey said.
The Atlanta-based company has been diversifying its drinks to try to adapt to changing tastes. U.S. sales volume for regular Coke is down 14 percent over the past decade, according to the industry tracker Beverage Digest, while Diet Coke's volume is down 29 percent.
So last year Coca-Cola rolled out nationwide a milk drink called Fairlife that it said had more protein and less sugar than regular milk. It also makes Sprite, Fanta and Dasani water, and has invested in options like bottled teas that have bigger growth potential.
The company is in the midst of selling off its bottling businesses to independent companies who will handle the bottling of sodas and its other drinks. This means less revenue, but fewer costs, for Coca-Cola as it focuses on selling syrups and concentrates to the bottlers as well as expanding its brands. Coca-Cola's annual revenue has fallen in the past four years and Wall Street analysts expect revenue for the current year to fall about 5 percent from the year before. In October, the company said its third-quarter profit fell 28 percent.
Quincey, 51, spent much of his career with the company in Latin America and was named president and chief operating officer last year. Wall Street analysts said they had expected Quincey to be promoted to the top job, but some thought it would be announced early next year.
Analysts at Stifel said "job one" for Quincey is to improve revenue growth. Shares of The Coca-Cola Co. rose $1.06, or 2.6 percent, to $42.04 in afternoon trading Friday.
Kent, 64, will continue as chairman of the board after he steps down as CEO. He has been CEO for more than eight years and first joined the company nearly 40 years ago.
Coca-Cola is the second beverage company to announce a CEO change in the past several days. Last week, Starbucks Corp. said Howard Schultz will step down as CEO next year and stay on as the coffee chain's executive chairman.
Change is also coming to Coca-Cola's board. It had said Thursday that Howard Buffett, the son of billionaire investor Warren Buffett, would retire from the board and not seek re-election next year. Analysts at Bernstein were concerned it could signal that Warren Buffett, whose holding company Berkshire Hathaway Inc. is Coca-Cola's largest shareholder, could sell Coke stock.
Warren Buffett didn't mention his stake Friday but said he was pleased with the CEO succession plans.
"I know James and like him," Buffett said in a statement, "and believe the company has made a smart investment in its future with his selection."