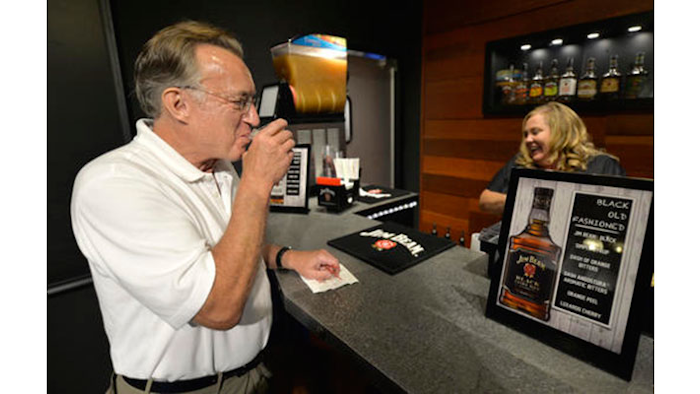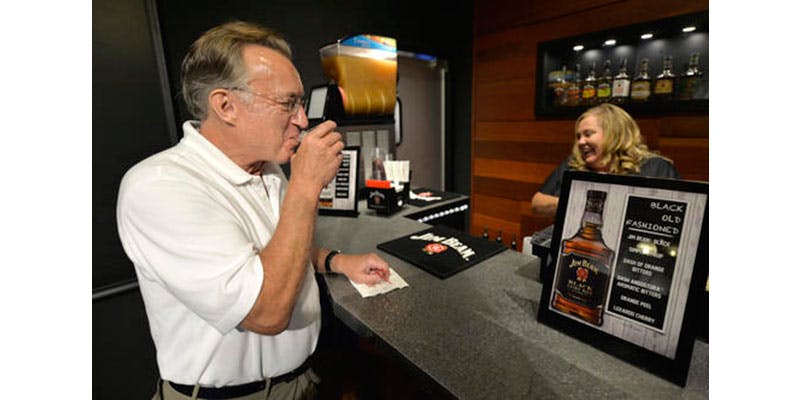 CLERMONT, Ky. (AP) — The bar's open at Jim Beam's flagship distillery, where some customers shared a round with the great-grandson of the brand's namesake.
"Kentucky at its finest," said visitor Christy Trout, who sipped a lemon basil bourbon sour — one of three cocktails on the menu — and shared a toast with Jim Beam master distiller Fred Noe as the bourbon bar opened Wednesday.
The world's largest bourbon producer is among distilleries tapping into a new Kentucky law aimed at building on the state's burgeoning bourbon tourism. The law allows adult visitors to sip cocktails and purchase larger amounts of whiskey during distillery tours.
Last year, nearly 900,000 guests visited the Kentucky Bourbon Trail and Kentucky Bourbon Trail Craft Tour. The bourbon and whiskey industries are enjoying growing sales worldwide, in part driven by higher demand for premium spirits and cocktails.
Since the law took effect in July, at least 15 distilleries — mostly small, craft producers — have obtained licenses to offer by-the-drink sales, said Kentucky Distillers' Association President Eric Gregory.
"This will put bourbon tourism on steroids," he said. "If we were ever going to reach our potential ... we needed these reforms."
The new law is giving distilleries more opportunities to showcase their products.
At MB Roland Distillery, a craft operation near the Tennessee line, visitors could drink beer at its "Pickin' on the Porch" music events but not its own whiskeys, said distillery co-founder Paul Tomaszewski.
"It was always a fun conversation when someone would ask, 'Well, can I get this?' 'No, we can't serve it for you,'" he said.
That changed when the distillery got a license. Serving up cocktails has become part of the routine, but the biggest potential is attracting special events on distillery grounds, Tomaszewski said.
At Beam's Clermont distillery, the bar is next to the tasting room, where customers sample tiny portions of whiskey, and a short walk from the visitors' center. The bar limit is one $8 drink per customer. Cocktails contain 1.5 ounces of bourbon. The entire Beam lineup is available.
The cocktail lineup will change monthly. On Wednesday, it included a traditional Old Fashioned and a frozen concoction.
"It's really about showing the versatility of bourbon," said Kim Bennett, senior director at the Beam visitors' center. "We have a lot of novice whiskey drinkers that come to Jim Bean and maybe don't want to just try it straight."
The current bar may be just a temporary place to serve drinks. Beam is looking at potentially developing a larger bar elsewhere on the distillery grounds to keep up with what's expected to be brisk demand.
The first customer Wednesday was Scott Schwar, who was on his way home to Illinois after attending a family wedding in Florida.
"I enjoyed the tastings but this is extra special," he said.
Schwar sipped an Old Fashioned before lunch while chatting with Noe, who signed a bottle for him.
Noe, a seventh-generation master distiller, sees the bar as a way "to expand the experience" for visitors getting a look at how bourbon is made.
"This is like an adult's Disney World here," he said.
He expects to drop in occasionally "so I can step over and do quality control on the cocktails," he said with a grin.
Noe admits he isn't much of a mixologist beyond bourbon and water, but Beam's drink creators may work their up to dabbling with innovative concoctions.
"We're going to start really slow and just kind of work our way up to more complexity," said Beth Burrows, a Beam brand ambassador who helped create the drink menu. "Eventually I might throw in something that's ... a little off the charts."