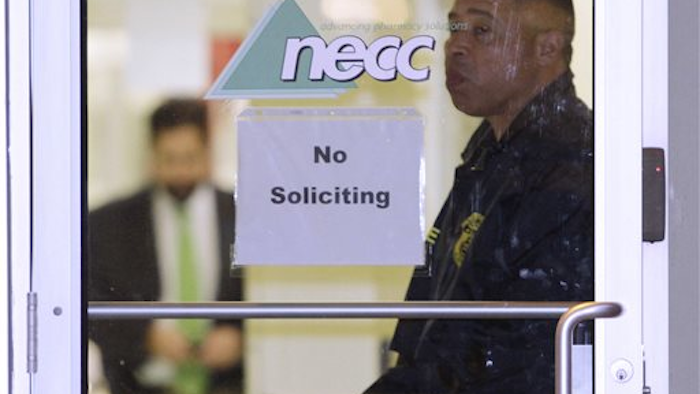 BOSTON — Federal officials say a co-owner and a pharmacist at a Massachusetts compounding pharmacy blamed for a 2012 deadly  meningitis outbreak have been charged with racketeering for allegedly causing the deaths of patients who received tainted steroids
manufactured by the company.
Barry Cadden, a co-founder of the New England Compounding Center, and Glenn Adam Chin, a pharmacist who was in charge of the sterile room, are accused in a federal indictment of "acting in wanton and willful disregard of the likelihood " that their actions would cause death or great bodily harm.
The two were among 14 charged in indictment released Wednesday. The others face charges ranging from mail fraud to the introduction of adulterated and misbranded drugs into interstate commerce.
Two co-founders and 12 other former employees of the compounding pharmacy blamed for a fungal meningitis outbreak that killed 64 people were arrested early Wednesday.
(Photo caption: Glenn Adam Chin, former supervisory pharmacist at the New England Compounding Center, departs federal court in Boston. Chin was among 14 people from the pharmaceutical company arrested at their homes Wednesday, Dec. 17, 2014. Tainted steroids manufactured by the pharmacy were blamed for a fungal meningitis outbreak that killed 64 people across the country.)