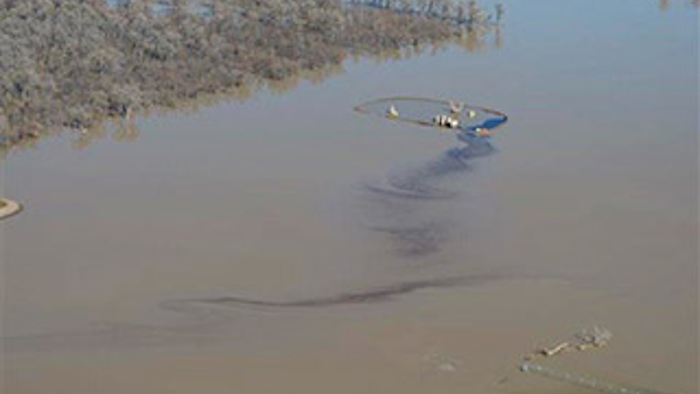 WILLISTON, N.D. (AP) — A Colorado oil company probably will be sanctioned for not heeding a warning to properly secure a North Dakota well that was swamped by floodwaters and spilled oil near the confluence of the Yellowstone and Missouri rivers, a state health official said Monday.
Environmental geologist Kris Roberts said potential fines or other actions were "likely" against Denver-based Zavanna LLC, after up to 1,400 gallons of oil spilled from its well site into floodwaters in the area southwest of Williston.
"Their response was not as fast as it needed to be," said Roberts, the state's head investigator on the spill.
Zavanna did not immediately return telephone calls for comment on Monday.
The spill was discovered on Friday and has been corralled by containment booms, Roberts said. No other wells in the area have leaked oil into floodwaters and no oil has been found in the main channel of the Missouri River, downstream for the well site, he said.
"It could have been much worse," Roberts said.
Zavanna's well, more than a mile from the Missouri River, was swamped with water that backed up from the ice-choked channel. A tank that contained about 33 barrels of oil at the well site floated from the rising water and broke a valve, spilling at least some of its content, Roberts said.
State Mineral Resources spokeswoman Alison Ritter said regulators began notifying oil companies in the region on March 10 to secure wells because of the threat of flooding from ice jams. About 50 wells in the area were threatened by the forecasted floodwaters, she said.
"We told them to shut in their wells and make sure they were no longer pumping," Ritter said. "We told them to take any precautions they needed to make sure nothing spilled. For the most part, everyone responded appropriately. Unfortunately, it didn't go as planned."
Roberts said Zavanna has hired contractors to clean up the spill and he expected it to continue for several days. Crews also have placed absorbent booms to collect the spilled oil and containment booms have been placed around several other wells in the area as a precaution, he said.
State records show that Zavanna produced more than 7,000 barrels of oil daily form its 91 North Dakota wells in December, the latest figures available. Zavanna's website shows it operates 15 wells in the area where the spill occurred.
A National Weather Service flood warning for the Williston area remained in effect Monday, though the agency said the areas around the Missouri and Yellowstone rivers "should be experiencing substantial relief from the flooding created by the ice jams last week."
The recent spill is not the first time oil companies have failed to protect oilfield sites from spring flooding, despite regulators' warnings that it could happen. In 2011, North Dakota regulators levied $3 million in fines against 20 companies that did not do enough to protect drilling sites, or simply ignored the warnings.
Roberts said the recent incident is yet another reminder about the danger of flooding in the region.
"A lot of these companies are based in Colorado or Texas and they just don't understand the Missouri River," he said. "This is what happens when the ice jams and the water goes up fast. This is another learning experience. If they don't heed the warnings next time, heaven help them."