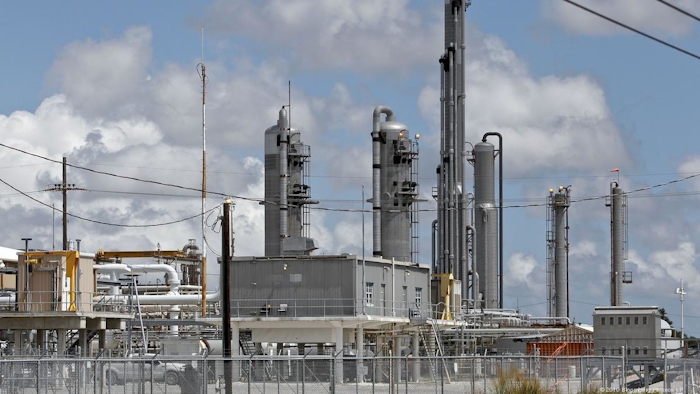 JACKSON, Miss. (AP) — A Pascagoula natural gas processing plant heavily damaged by a June 27 explosion could restart operations before the end of the year.
James Teague, CEO of Houston-based Enterprise Products Partners LP, made the comments Thursday to investors during a conference call after the partnership announced its quarterly financial results.
"As of today, virtually all of the gas has been rerouted to other plants in the area, and most of these deliver (natural gas liquids) into our systems," Teague said. "The investigation of the Chemical Safety Board is still underway and we are cooperating. At this time, our best estimate is the plant will return to operation in the fourth quarter."
The company has initially set aside $7 million to repair damage, but Randy Burkhalter, vice president of investor relations, said that amount might rise.
"We're beginning evaluate the facility but as far as coming in and really knowing what the cost to get that facility back up and the definitive timing, we're still developing that," Burkhalter said on the conference call.
The plant extracts liquids from natural gas, sending the gas to users and the liquids to plants making propane and butane. Because the plant isn't running, some oil and gas platforms in the Gulf of Mexico are limiting production. Some natural gas is being diverted from the Destin Pipeline, which feeds the Pascagoula plant, to other connected pipelines, according to online notices. Gas is then piped ashore for processing in Louisiana. Shipments have been about 450 million cubic feet per day, below the amount the Destin Pipeline was handling before the explosion.
Limits on gas transport also can limit oil production from the 12 oil and gas platforms on the Destin Pipeline. Oil and natural gas come up together through wells, and if owners have nowhere to send the natural gas, they can't produce as much oil.
The U.S. Chemical Safety Board and the U.S. Occupational Safety and Health Administration continue to investigate the explosion, which sent flames into the air for hours. Neither has issued findings or citations in the case.
Enterprise owned a minority of the plant until earlier this year, when it bought the 60 percent that BP PLC had owned.