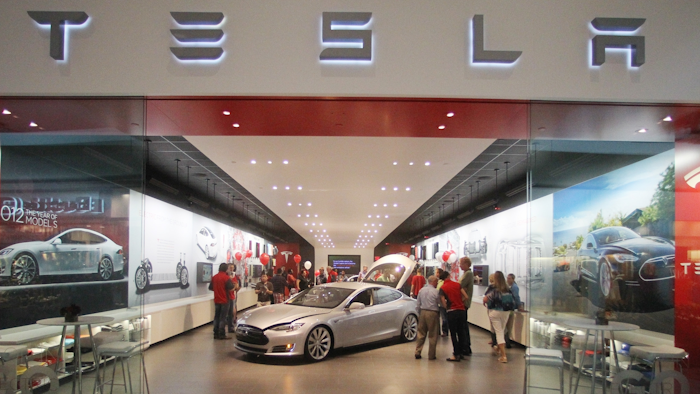 A representative of electric car maker Tesla has been booted from a Virginia board overseeing car dealers, marking the latest skirmish between the company and the state's powerful car dealer association.
A Republican-controlled Senate panel voted Tuesday to remove Tesla representative Cody Arnett from the state's Motor Vehicle Dealer Board, which has the power to fine dealerships for improper business practices.
The move came at the request of the Virginia Automobile Dealer Association, which said Arnett's recent appointment by former Democratic Gov. Terry McAuliffe violated state law. Tesla says Arnett's appointment was legal.
Tesla has been battling the VADA for years — in a fight that's played out in similar fashion in several other states — over whether it should be required to sell cars through third-party dealers.
The car company, which has two stores in Virginia, says it has a unique product and business model that doesn't fit the traditional franchise setup required of other car manufacturers. Car dealers have argued that Tesla is hurting customers and limiting competition by trying to skirt laws requiring independent car dealers.
"Tesla continues to ignore the laws of Virginia," said VADA President Don Hall.
He said Arnett's job at Tesla doesn't fit the definition of a "franchised motor vehicle dealer" required to serve on the board. Hall said only Telsa's CEO, Elon Musk, fits the description under the law.
"If Mr. Musk wants to relocate to Virginia, he can serve on the board," Hall said.
Tesla says that Arnett met the legal qualifications to sit on the 19-member board and would have added a valuable perspective.
"Tesla has just as much of a right to participate on the MVDB as anyone else," Tesla senior policy manager Brooke Kintz said, adding that the Senate panel's actions raise "basic questions of fairness and improper political influence."
The VADA is among the most generous political donors in state politics and has long been a key power center at the Capitol.