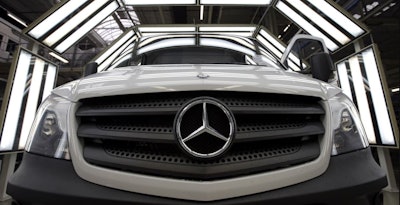 Germany's financial regulator says it is checking whether automakers Daimler and Volkswagen violated securities disclosure rules by not telling investors about any self-reporting they may have done to regulators about possible collusion.
Media reports have said the companies self-reported to competition authorities as a way of limiting any fines if they are found to have restrained competition. The EU competition authority has said it is evaluating the information.
The BaFin agency said Monday it was checking if the companies violated requirements to tell shareholders as soon as they have information that could affect the stock price.
Der Spiegel magazine reported that German auto companies colluded for years on technical matters including limiting the size of the tanks holding the urea solution used to neutralize pollutants in exhaust gases.