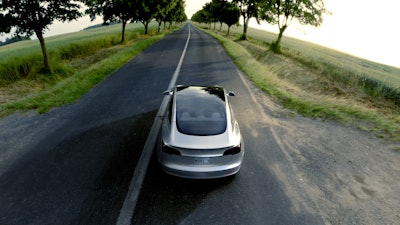 Electric car maker Tesla's first-quarter loss widened 17 percent to $330 million as it ramped up spending ahead of the launch of its Model 3 sedan and its growing solar energy business.
The loss equaled $2.04 per share, compared to a loss of $2.13 a year ago. Excluding one-time items, Tesla reported a loss of $1.33 per share, which was bigger than Wall Street expected. Analysts polled by FactSet forecast a loss of $1.23 per share.
Revenue more than doubled to $2.7 billion from $1.15 billion as Tesla delivered more vehicles in the quarter and saw big increases in its energy generation and storage business after its acquisition of solar panel maker SolarCity Corp. late last year.
Palo Alto, California-based Tesla said it remains on track to start production of the Model 3 in July. It's also working on several other vehicles, which helps explain its 77 percent increase in research and development spending in the first quarter.
CEO Elon Musk said the company plans to show a prototype semi-truck in September that is partially made from Model 3 parts. It is also planning a Model Y small SUV in late 2019 or 2020.
"I'm absolutely confident that electric vehicles will occupy every segment, without exception," Musk said.
The company's goal to move beyond its current position as a niche maker of luxury cars largely rests on the Model 3. The lower-cost model, which will start around $35,000, is set to go on sale later this year. Musk wouldn't say how many people have put down a refundable $1,000 deposit for a Model 3, but said "reservations continue to climb week after week." Tesla had 373,000 reservations as of last May.
Tesla said it is preparing its factory in Fremont, California, to produce 5,000 Model 3 sedans per week sometime before the end of 2017 and 10,000 per week at some point in 2018. Musk said the Model 3 was designed to be much less complicated than the company's Model X SUV and the company has a better supply team in place, so he's not anticipating the sorts of delays that happened with previous Tesla models.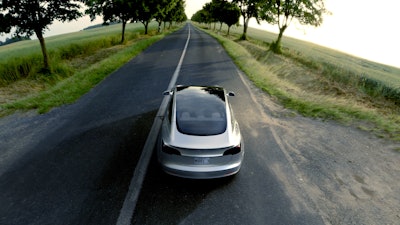 "As far as we know there are no issues," he said.
Tesla is also expanding its network of stores and charging stations to meet anticipated demand. The company said it plans to open 100 retail and service locations worldwide this year, including its first stores in Dubai and South Korea. It also plans to double the number of fast-charging Supercharger stations to 10,000.
Tesla shares fell 2.3 percent to $303.78 in after-hours trading. The shares have been on a tear since last month, when Tesla announced its first quarter production and deliveries. Tesla said it delivered 25,000 vehicles in the first quarter, up 69 percent over the January-March period a year ago. The deliveries were about evenly split between the Model S sedan and Model X SUV. The company said it expects to deliver 47,000 to 50,000 vehicles in the first half of this year.
With a total market value of $50.6 billion, 14-year-old Tesla currently has a higher value than General Motors Co. and Ford Motor Co. But that's largely based on future promise, not current reality. Tesla has never made a full-year profit.
Barclay's analyst Brian Johnson calls Tesla a "cult stock" and has set a price target of $165.
"The stock seems so disconnected from any form of fundamentals, and right now is purely driven by momentum — making earnings less relevant," he said in a note to investors.
Musk brushed off suggestions that technology giant Apple, which has accumulated $257 billion in cash and marketable securities, might try to acquire Tesla.
"I don't think they want to have that conversation. I have not heard that they do," Musk said.
Tesla also said it will begin pilot manufacturing of solar roof tiles in Fremont in the second quarter. Shortly after that, manufacturing will move to an existing SolarCity factory in Buffalo, New York.