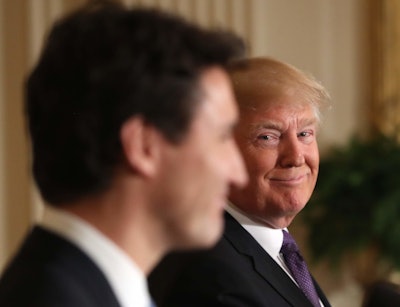 President Donald Trump has long railed about unfair trade practices of China and Mexico. Now he's drawn a new target — Canada.
The two countries are suddenly sparring openly over inexpensive Canadian timber and Canada's barriers to U.S. dairy products — disputes that go back years but rarely get such a public airing.
Before sunrise Tuesday in Washington, Trump went on Twitter to declare: "Canada has made business for our dairy farmers in Wisconsin and other border states very difficult. We will not stand for this. Watch!"
Hours earlier, his Commerce Department had announced plans to impose duties averaging 20 percent on softwood lumber imports from Canada. U.S. homebuilders quickly warned that the move would drive up the cost of new houses.
The duties on Canadian lumber imports are "a pretty hard blow," Gary Hufbauer, senior fellow at the Peterson Institute for International Economics, said of the lumber sanctions. "The message here is that the U.S. not only talks tough, it acts tough."
As a candidate, Trump had vowed to declare China a currency manipulator and to rewrite or withdraw from the North America Free Trade Agreement because, he said, so many American factories had moved jobs to Mexico to exploit low-wage labor. Yet once in office, he softened his stand, deciding not to single out China for its currency policy and offering a draft rewrite of NAFTA that kept much of the original deal intact.
But now, the Trump administration is ramping up the rhetoric against Ottawa.
"People don't realize Canada's been very rough on the United States," Trump said Tuesday. "Everyone thinks of Canada as being wonderful, and so do I. I love Canada. But they've outsmarted our politicians for many years."
In a way, the tensions are surprising. The U.S. and Canada, among the most open economies in the world, enjoy a booming cross-border trade. Last year, the United States sold $267 billion in goods to Canada (led by autos and machinery), more than to any other country. Canada sold $278 billion in goods to the United States, led by fuels, autos and machinery.
The U.S. trade deficit in goods with Canada was just $11 billion last year — a fraction of America's $347 billion trade gap in goods with China.
But dairy and timber have long bedeviled U.S.-Canada commercial relations. U.S. lumber mills have been complaining about cheap Canadian imports since the 19th century. The two countries have patched over their differences on Canada's softwood lumber imports, most recently with a compromise that expired in 2015.
The Obama administration sought a new accord with Canada over softwood lumber. But Obama's U.S. trade representative, Michael Froman, now at the Council on Foreign Relations, says the Canadians decided to gamble on the new administration. Froman suggested that they calculated that they might get a better deal from Trump. As a builder, they perhaps reasoned, Trump might be more sympathetic to anything that would limit the price of lumber.
Instead, Commerce Secretary Wilbur Ross this week announced duties ranging from 3 percent to 24 percent on softwood lumber imports, arguing that Canada unfairly subsidizes its industry.
"They're generally a good neighbor," Ross said Tuesday. "But they still have to play by the rules."
The U.S. and Canada are also wrangling over dairy. Ottawa shields its dairy farmers from foreign competition, regulating prices and production and taxing imports heavily. But a new American product — a type of unfiltered milk used in cheese — had not been blocked by Canada's trade barriers. Canadian dairy farmers complained about the cheap imports coming across the border. So Ottawa changed its pricing policy, effectively barring unfiltered American milk.
Some American dairy farmers have been devastated.
Tim Prosser, a dairy farmer in Columbus, Wisconsin, was dropped by a buyer after Canada made the change. Prosser says he and his father might have to shut down their business and sell their 100 cows if they can't find a new customer by May 1.
"Even if we keep feeding the cows and milking them, it still costs us money," Prosser said. "If we have to turn around and dump the milk, we'd be looking at a $35,000 loss every month."
On Tuesday, a Wisconsin state official said about half the state's farms affected by Canada's move had found new buyers for their milk or have promising leads.
In a speech last week in Kenosha, Wisconsin, Trump declared that Canada has been "very, very unfair" to dairy farmers and promised to "start working on that."
Laura Dawson, director of the Canada Institute at the Wilson Center think tank in Washington, says it's not surprising that Trump would spotlight the issue: "Focusing on dairy while you're giving a speech in Wisconsin — why would you not play to the audience there?"
Dawson, a former economic adviser to the U.S. embassy in Ottawa, says she suspects "the current drama will be forgotten" after U.S. and Canadian negotiators get down to working out compromises.
"Canadians are pretty thick-skinned," she says. "They are used to dairy and softwood being continuing irritants" in relations with the United States.
"There are millions of good U.S. jobs that depend on the smooth flow of goods, services and people back and forth across our border," Canadian Prime Minister Justin Trudeau said during a news conference.
He added: "Any two countries are going to have issues that will be irritants to the relationship. Having a good constructive working relationship allows us to work through those irritants."
Dawson says Canadians are worried about their overreliance on the American market: 75 percent of Canadian exports go to the United States.
Hufbauer at the Peterson Institute says he doubts Trump's talk will force Canada to changes its way. It might even have the opposite effect:
"Talking tough will rile the average Canadian and make it harder for Trudeau to make concessions."