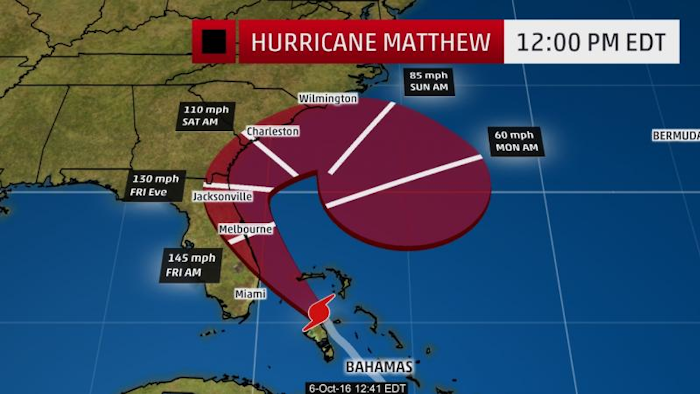 NASA's Kennedy Space Center and the Cape Canaveral Air Force Station could take a significant hit Friday when Hurricane Matthew makes landfall on Florida's Space Coast.
The space station's two launch pads jut up from barrier islands, a design intended to protect the public from catastrophes should rocket launches go awry. The setup, however, offers little protection from the ocean. Strips of eroding beaches are the spaceport's only defense.
Matthew is poised to strike with winds in excess of 140 miles per hour and dump six to 18 inches of rain on Florida, coastal Georgia, and the Carolinas.
This could be the strongest storm in the space station's 54-year history.
Back in 2004, Hurricane Frances, a Category 2 storm, battered the center, causing about $100 million in damage to NASA facilities as well as Cape Canaveral Air Force Station and Patrick Air Force Base. The space center's Vehicle Assembly Building was hit particularly hard with 820 4 x 10-foot aluminum panels ripped from the building.
The space center shut its doors at 1 p.m. Wednesday and employees were ordered not to come to work Thursday and Friday.
"We are closed Thurs. & Fri.," the center tweeted Thursday afternoon. "Hurricane preparations were completed last night [Wednesday] & employees sent home. After storm, teams will assess damage."
The Weather Channel predicts the hurricane will make landfall in Florida as a Category 3 or higher storm.
Haiti and the Bahamas have already experienced significant destruction in Matthew's wake.
The storm is expected to move into the Florida Panhandle late Thursday.