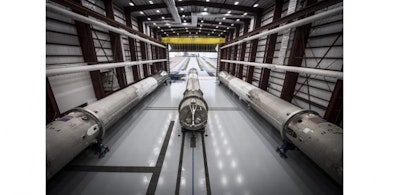 The Falcon 9 rocket that landed at sea on May 6 was damaged during the return to Earth, SpaceX CEO Elon Musk said on Sunday.
It's uncertain whether the rocket will fly again after being subjected to "max damage, due to [very] high entry velocity."
The Falcon 9 that delivered a communications satellite to low Earth orbit on May 6 was the third one that SpaceX successfully flew and returned. However, the 75 mile drop was not easy. SpaceX hasn't detailed exactly what went wrong, but just like at the other barge landings, SpaceX didn't entirely expect the test to be a success.
The booster came in faster and at a sharper angle than the previous Falcon 9 which landed on the barge, subjecting it to five times as much heat.
Now, all three Falcon 9 rockets that have been flown and recovered are in SpaceX's hangar at the Kennedy Space Center. The next Falcon 9 launch is planned for May 26.
SpaceX is also working on building the larger Falcon Heavy rocket and is currently at the head of the pack when it comes to private-public partnerships that will send astronauts to space.