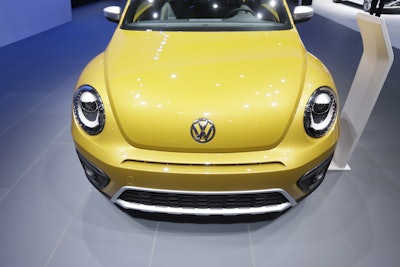 A federal judge overseeing hundreds of class-action lawsuits against Volkswagen says he wants a firm answer within a month about how the German automaker plans to bring nearly 600,000 diesel cars into compliance with clean air laws.
U.S. District Court Judge Charles R. Breyer told Volkswagen's lawyers at a hearing in California on Thursday that he expects them to report back by March 24. The judge said that by then, he wants to know from the company about the available technical solutions to fix the cars and the status of negotiations on a potential settlement with affected owners.
Volkswagen admitted to U.S. regulators in September it had used illegal software installed in its so-called "Clean Diesel" engines. The cheating allowed cars to pass laboratory emissions tests while spewing levels of harmful nitrogen oxide at up to 40 times the level allowed when operating on real roads.
Breyer said six months is long enough for VW to find a fix. The judge also stressed that every day the vehicles remain on the road excess pollution is going into the atmosphere and Volkswagen owners are stuck with cars they can't sell.
"It's an ongoing harm that has to be addressed," Breyer said. "I've found the process is a function of how much time people have available to fill. The story about lawyers is that that if you give them a year to do something, it will take them a year to do something. If you give them 30 days to do something, they'll do something in 30 days."
Volkswagen is currently in settlement negotiations with the phalanx of lawyers representing the owners of the defective cars, as well as the Environmental Protection Agency and the California Air Resources Board. Both state and federal regulators will have to sign off on any planned recall. There is also an ongoing criminal probe into the company's actions.
Breyer suggested the company shouldn't necessarily wait for all those issues to be settled to take some sort of action, even if it isn't in the best interest of shareholders.
Volkswagen spokeswoman Jeannine Ginivan said Thursday the company is working to find solutions "as quickly as possible."