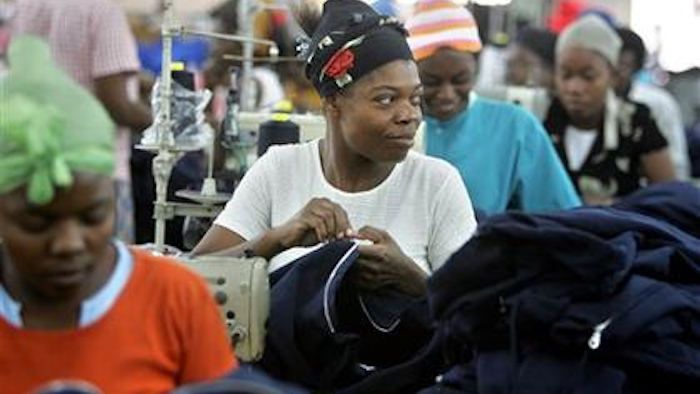 PORT-AU-PRINCE, Haiti (AP) -- Haiti raised slightly its minimum wage for the estimated 29,000 workers who sew together T-shirts and other clothing in the country's apparel factories.
President Michel Martelly, his prime minister and a Cabinet member who oversees labor conditions signed the 12.5 percent increase into law. It took effect Thursday, and The Associated Press obtained a copy of the decree from the office of the national gazette on Monday, the first day it was available.
The law says the workers will now earn about $5.11 per eight-hour workday. It falls far short of the equivalent of $11.36 per workday that protesting garment workers have demanded.
Last year's inflation rate in Haiti was 3.2 percent.
The clothing factories have been in Haiti for decades. Initially the plants made baseballs, but they now turn out T-shirts for major North American retailers. About two-thirds of the country's 10 million people lack formal employment, and the garment industry is among the few formal sources of income.
Parliament last approved a raise in the minimum wage in 2009. That increased the daily rate from about $1.50 to around $4.50 over three years.
It also established a separate minimum wage for garment workers who can earn as much as $6.81 daily if they meet production quotas. But labor groups say the quotas are too high for workers to realistically meet in a regular workday.
The U.S.-based Worker Rights Consortium said in an October report that Haitian workers receive an average of 32 percent less than what they should. An earlier report said that all of Haiti's 24 garment factories failed to pay workers even the minimum wage.
"It means a modest increase, and it was a lot less than what the workers were asking for," Scott Nova, executive director of the Worker Rights Consortium, said by telephone.
Haiti's garment sector insists its factories comply with labor laws and says the country's minimum wage is higher than in places like Pakistan, India and Mexico.
The new decree says people who work in service jobs in banks, supermarkets and elsewhere will earn about $5.90 daily. Construction workers and security guards will earn about $5.45.