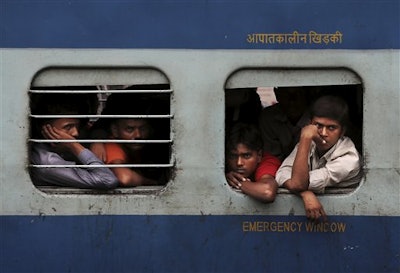 A traffic jam following power outage and rains at the Delhi-Gurgaon road on the outskirts of New Delhi, India, Tuesday, July 31, 2012. (AP Photo)
NEW DELHI (AP) — Electric crematoria were snuffed out with bodies inside, New Delhi's Metro shut down and hundreds of coal miners were trapped underground after three Indian electric grids collapsed in a cascade Tuesday, cutting power to 620 million people in the world's biggest blackout.
While Indians were furious and embarrassed, many took the crisis in stride, inured by the constant — though far less widespread — outages triggered by the huge electricity deficit stymieing the development of this would-be Asian power.
Hospitals, factories and the airports switched automatically to their diesel generators during the hours-long cut across half of India. Many homes relied on backup systems powered by truck batteries. And hundreds of millions of India's poorest had no electricity to lose.
"The blackout might have been huge, but it wasn't unbearably long," said Satish, the owner of a coffee and juice shop in central Delhi who uses only one name. "It was just as bad as any other five-hour power cut. We just used a generator while the light was out, and it was work as usual."
The crisis was the second record-breaking outage in two days. India's northern grid failed Monday, leaving 370 million people powerless for much of the day, in a collapse blamed on states that drew more than their allotment of power.
At 1:05 p.m. Tuesday, the northern grid collapsed again, energy officials said. This time, it took the eastern grid and the northeastern grid with it. In all, 20 of India's 28 states — with double the population of the United States — were hit in a region stretching from the border with Myanmar in the northeast to the Pakistani border about 3,000 kilometers (1,870 miles) away.
Hundreds of trains stalled across the country and traffic lights went out, causing widespread jams in New Delhi. West Bengal Chief Minister Mamata Banerjee asked office workers to go home and rushed generators to coal mines to rescue trapped miners.
Sahiba Narang, 17, was taking the Metro home because school bus drivers were on strike, "but this power failure's messed up everything."
S.K. Jain said he was on his way to file his income tax return when the Metro closed. The 54-year-old held his head, distraught that he would almost certainly miss the deadline. Hours later, the government announced it was giving taxpayers an extra month to file because of the chaos.
By evening, power had been restored to New Delhi and the remote northeast, and much of the northern and eastern grids were back on line. Electricity officials said the system would not be back to 100 percent until Wednesday.
Power Minister Sushil Kumar Shinde said the new crisis had the same root as Monday's collapse.
"Everyone overdraws from the grid. Just this morning I held a meeting with power officials from the states and I gave directions that states that overdraw should be punished. We have given instructions that their power supply could be cut," he said.
But others were skeptical of Shinde's explanation, saying that if overdrawing power from the grid caused this kind of collapse, it would happen all the time.
Indian stranded passengers wait inside a stalled train as they wait for the services to resume after a power outage in New Delhi, India, Tuesday, July 31, 2012. (AP Photo/Kevin Frayer)
"I just can't believe that there is no system in place to check whether the states are drawing more than their limit or not," said Samiran Chakraborty, head of research at Standard Chartered, a financial services company. "There has to be a much more technical answer to that question."
At a contentious news conference, R.N. Nayak, chairman of Power Grid Corp., which runs the nation's power system, said his staff was searching for the cause of the problem and pleaded for patience.
"We have been running this grid for decades. ... Please trust us," he said.
The blackouts came amid consumer anger with the recent increase in power fees, including a 26 percent hike in Delhi, that government officials said were needed to pay for the steep rise in fuel costs.
The Confederation of Indian Industry said the two outages cost business hundreds of millions of dollars, though they did not affect the financial center of Mumbai and the global outsourcing powerhouses of Bangalore and Hyderabad in the south. Like many, the group demanded a widespread reform of India's power sector, which has been unable to keep up with the soaring demand for electricity as the economy expanded and Indians grew more affluent and energy hungry.
"India has outgrown its own infrastructure," said Jagannadham Thunuguntla, a strategist at SMC Global Securities.
India's Central Electricity Authority reported power deficits of more than 8 percent in recent months, and many economists said the power deficit is dragging down India's economy.
"Without power we cannot run an economy at 8 percent, 9 percent growth or whatever your ambition is," Chakraborty said.
Part of the problem is that India relies on coal for more than half its power generation and the coal supply is controlled by a near state monopoly that is widely considered a shambles.
A recent survey showed nearly all the coal-fueled plants had less than seven days of coal stock, a critical level, said Chakraborty, and many of the country's power plants were running below capacity. Government bureaucracy has made it difficult to bring more plants online.
In addition, vast amounts of power bleeds out of India's antiquated distribution system or is pirated through unauthorized wiring. Farmers, with a guarantee of free electricity that is driving many state electric boards to bankruptcy, have no incentive to conserve energy.
The power deficit was worsened this year by a weak monsoon that lowered hydroelectric generation, spurred farmers to use pumps to irrigate their fields long after the rains would normally have come and kept temperatures higher, keeping air conditioners and fans running longer.
The opposition said officials should have located the first fault and fixed it before getting the whole system back on line Monday.
"The power minister owes an answer to the prime minister, owes an answer to the nation why this is happening," Bharatiya Janata Party spokesman Prakash Javadekar said.
Instead, as part of a planned Cabinet shuffle, Shinde was promoted in the middle of the day to the powerful job of home minister, putting him in charge of the nation's internal security even as the power crisis dragged on.
By contrast, the power chief in the state of Uttar Pradesh was summarily fired by his chief minister Monday for his handling of the first power crisis.
___
Associated Press writer Nasr ul Hadi contributed to this report from New Delhi and Prasanta Pal contributed from Kolkata.