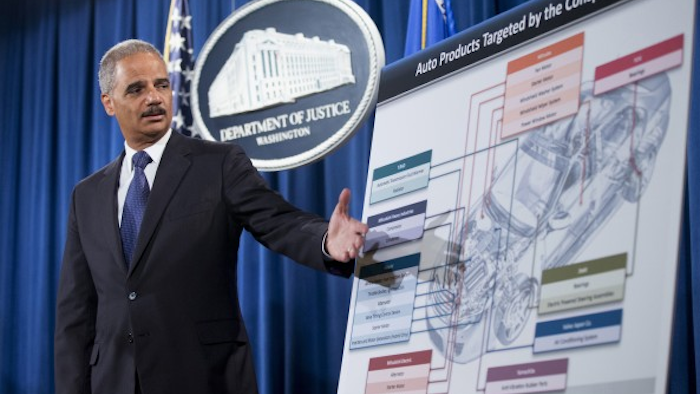 "It's a very, very safe assumption that U.S. consumers paid more, and sometimes significantly more, for their automobiles as a result of this conspiracy."
These are the words of Brent Snyder, a deputy assistant attorney general in the antitrust division of the Justice Department, regarding the price-fixing probe facing the auto industry.
According to the AP, the investigation, made public four years ago with FBI raids in the Detroit area, has led to criminal charges against dozens of people and companies, stretched across continents and reverberated through an industry responsible for supplying critical car components.
The collusion has also saddled U.S. drivers with millions of dollars in extra costs. Specifically, says the AP:
With an eye toward eliminating competition and maximizing profits, (auto parts manufacturing execs) exploited an industry that experts say is in some ways vulnerable to collusion: There are a finite number of purchasers and suppliers, there's steady pressure among companies to cut prices — and car parts, unlike certain products that have a great deal of variability, are generally standardized and homogeneous.

 

"The firms will just make more money if they're able to reach and stick to an agreement to collectively charge higher prices so that customers can't get them to bid against each other," said Spencer Weber Waller, director of the Institute for Antitrust Consumer Studies at the Loyola University Chicago law school. "The problem is, of course, it's a felony in the United States."
This past fall, the FBI described the high cost of auto parts price-fixing — including the way it also victimized car makers, who are typically operating on tight margins. When car makers put out requests for bids, said FBI Criminal Investigative Division Assistant Director Ronald Hosko, "What they didn't realize is that in back rooms and secret meetings in the United States and Japan, their suppliers were getting together and allocating business and fixing the prices."
Hosko said companies trying to game the system should note the stiff penalties meted out as a result of the investigation and prosecutions. "Today's events and the last few years of investigation should send a clear message to companies that suffer from the notion that they don't need to follow the rules," he said on September 26th. "If you violate the laws of this country, the FBI and the Justice Department will investigate and stop the threat you pose to our economy and to hardworking Americans."
This story received a lot of coverage in September, but has suddenly resurfaced due to the most recent development where an executive from a Japanese company was charged with conspiring to fix the prices of heater control panels sold to Toyota and with persuading workers to destroy evidence.
To date, thirty-four individuals have been charged and 27 companies have pleaded guilty or agreed to do so. Collectively, they've agreed to pay about $2.3 billion in fines.
While GM has been identified as one of the clear targets in this case, don't think the public will forget about the recall probe just yet. In fact, Canada is now probing two fatal crashes in General Motors Co. vehicles which were subject to a recall to fix faulty switches and has received nine further complaints from drivers, the country's top transportation official told Reuters on Monday. "If information comes to light that GM Canada is not being truthful with us, we do have the ability to go back and prosecute," Canada's Transport Minister Lisa Raitt said.
---
To read more by Anna Wells, sign up for our newsletter. You can also follow Anna on Twitter @IndustrialAnna or contact her by email at anna.wells@advantagemedia.com.