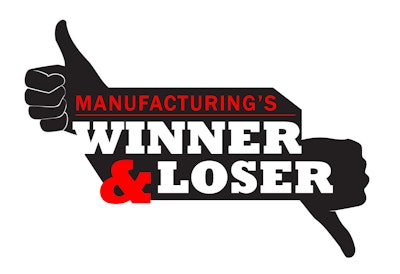 This week, we have a group of winners who developed a material that could revolutionize electronics. This week's loser, from the food sector, distributed a product that is allegedly responsible for hundreds of illnesses over the past few months, as well as two related deaths. 
Winner
Researchers at Washington State University have developed a flexible metal film by bonding indium — a soft, relatively inexpensive metal — with a layer of plastic. This material, which has the ability to stretch up to twice its length, plays an important role in the creation of flexible electronics.
"A metal film doubling its size and not failing is very unusual," WSU researcher Rahul Panat said. "We have proposed a model for the stretchy metal but much work is needed to validate it. It's a good situation to be in." 
The material could contribute to the production of connected fabrics, wearable sensors, robotic skins, bendable batteries and more. 
The current technology for flexible metal is either too fragile, too expensive or it requires too much space and electricity. Therefore, this new material shows great potential for the industry. 
Check out the video, posted originally on the Washington State University website, here:
Loser
Andrew & Williamson Fresh Produce of San Diego recently recalled its "Limited Edition" brand garden cucumbers, grown in Mexico, after a salmonella outbreak across the states. 
Health officials say the cucumbers are likely the cause of hundreds of illnesses since July 3 as well as the death of a 99-year-old woman in August. There was also a second death reported related to the outbreak, a Texas woman who had other health issues but whose records indicate salmonella was a "contributing factor" in her death.
The U.S. Centers for Disease Control and Prevention reported Wednesday there have been 341 reported cases of salmonella in 30 states since July 3. 
Although the company did the right thing by not only voluntarily making the recall, but also by complying with health officials to ensure the situation was correctly identified, they still should have handled the product better to begin with by following cleanliness and safety guidelines. Unfortunately, this problem has affected hundreds, and hospitalized seventy, including children.  
The most important factor in food manufacturing is clean and safe handling of products to avoid situations like this. For that reason, Andrew & Williamson Fresh Produce of San Diego is this week's loser.