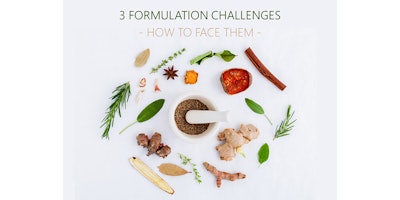 Formulation is a critical step in product development. It is, however, a complex process. As a result, formulators face a number of challenges when developing a recipe. They have to take into consideration various requirements from different teams — marketing, quality and regulatory affairs. It is also crucial to stay ahead of the rapidly evolving demand for new products and the emerging trends. Formulators are also challenged by the constant need for innovation and sustainable manufacturing, not to mention the strong competition and complex regulatory environment that add additional challenges.
Formulation Challenge 1 – Cost Control
Cost is an important factor in product development — from the price of raw materials to the manufacturing costs. It is important to develop a product which follows certain requirements, especially in terms of pricing. Often, a company's marketing department will establish a certain price that consumers are willing to pay for a product, which, in turn, will determine the maximum manufacturing cost of a product. It can be challenging to calculate direct material costs if there is no proper process in place to have all information readily available. On the other hand, it is also a problem when there are too many different processes and software solutions implemented, especially as these systems are usually from different providers and hosted on different platforms. So it becomes laborious and slow to get the required information.
Either way, retrieving information is, then, time-consuming and complex. However, since food and beverage manufacturers operate on thin margins, controlling costs is essential.
What's the solution? Whether a manufacturer has no process in place or, on the contrary, has too many processes and software solutions implemented, it should:
Revise how to centralize intellectual data (costs of raw materials, packaging, etc.)
Version each recipe and product
Define a clear process to facilitate the sharing of information from raw materials received from suppliers through formulation to product launch
Enforce this process across the whole company
Those steps are important to ensure that the research and development teams are using accurate and timely data. Costs of the formulated product should be automatically calculated from the costs of its raw materials and packaging.
IT solutions, such as a Product Lifecycle Management (PLM) software, encompass all business departments to facilitate the information sharing from a marketing brief, through suppliers' inputs to formulation, while minimizing human errors.
Formulation Challenge 2 – Allergen Management
Formulators need to be careful when creating new recipes or products, and there are two critical parts surrounding allergen management. First, formulators need to follow specific requirements which define the allergens prohibited — for instance if the product needs to be dairy-free or nut-free. On the other hand, if there is no specific requirement, it is still important to accurately determine and declare the allergens present in the final product. It is also crucial for food and beverage manufacturers to implement processes to control and manage all types of allergens in their products. Formulators also need to have access to an accurate database with all raw materials information — this will help them determine which ingredients to use in a recipe in order to avoid certain allergens.
What's the solution? Having the right information at the right time via a single source of information is one of the main solutions. Information is key to ensure that a product follows the requirements set by other departments, and that all food allergens are properly identified. This source of information should be shared with all departments, organized following set guidelines and always up-to-date. Manufacturers can take additional steps towards a better management of allergens, such as enforcing suppliers' relationships. For instance, information received and sent from/to suppliers should follow the same structure to guarantee that all required information has been completed (e.g.: certifications, declaration of the presence of allergens in ingredients, etc.). A supplier portal will help you facilitate these processes. It will easily improve relationships with your suppliers and enforce their accountability, therefore, improving collaboration management.
Formulation Challenge 3 – Requirements From Other Departments
Food and beverage formulation becomes even more complicated when formulators have to take into consideration several requirements. Those requirements can vary from claims that the marketing team wants to use on the packaging, a list of allergens that are specifically prohibited for a product, and all the country-specific regulations a product must follow. It is clear that the R&D team can then be easily overwhelmed by all these requirements and have a hard time accurately and efficiently following them.
What's the solution? Here, again, sharing information is key. Several departments are involved during product development, and streamlining communication is important. Using templates to create a marketing brief will help the R&D team quickly identify the requirements. In addition, if all briefs are structured in the same way, it will ensure that all required information has been completed and shared.
During formulation, it is also important for the R&D team to have access to regulations that will apply to the product. Ensuring a product compliance should start right when formulators are working on a recipe. Indeed, they should have access to all applicable regulations from the first step of a product development. To do so, it is essential to create a common single source of information and improve communication between quality, compliance and R&D teams.
Formulators can also become proactive and identify — based on nutritional information and following regulations in force — claims that could be used by the marketing department (e.g.: non-fat, reduced sugar, etc.).
Without the proper tools, it can be complicated and lengthy to implement these solutions. However, Product Lifecycle Management software can support you during your entire product development — from marketing brief, through suppliers' relationship and formulation, to end of life.
About Lascom
For nearly 30 years, Lascom Product Lifecycle Management (PLM) software has supported the Food & Beverage manufacturers and retailers with their product development. Lascom solution offers a modular software that facilitates decision-making, streamlines new product development and speeds up time-to-market, while enhancing collaboration across each department, from marketing, R&D, quality to compliance. Lascom is the essential partner for the Food & Beverage industry. www.lascom.com