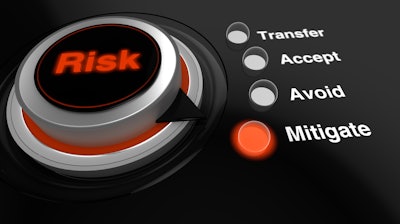 iStock
Over a year into a global pandemic, we are ready to go back to business as usual. This type of thinking, unfortunately, is not the way forward. Now is the time to set up the supply chain for future success, no matter what disruptions come along in the coming years. Even if we avoid another global pandemic, issues like what we have seen recently in the Suez Canal and the Texas snowstorm will continue to challenge the supply chain.
Fortunately, we can take steps to build resiliency to avoid future disruptions, even if we don't know what they are yet. For supply chains, especially, it's time to think about how to prepare for the future. Risk mitigation is the first step towards not only a prepared company but a thriving one. In order to create a resilient supply chain, visibility and analytics are key to understanding what is happening in both the physical and digital realms.
What Data Can Do for You
It's not just about more data, it's about smarter data. Intelligent data analytics helps manage in addition to measure. The right tools inside your warehouse puts data to work across your entire organization, helping to transform your operations.Your company produces an immense amount of metrics, statistics and measurable data every day. Capturing these in real time will show you exactly where you can increase efficiency or resilience to reduce the risk of potential mishaps. The food supply chain is a series of interconnected actions and events with trading partners. When you can tap into data from multiple sources, you can manage any potential roadblocks as they occur.
More than just accumulating data, information needs to be analyzed in order to be useful. Intelligent data strategy will benefit your warehouses and external supply chains. Risks, such as shortages, late fees or deliveries, and incorrect shipments will cost both money and efficiency. The right platform, however, can eliminate these and help you realize revenue much faster than with other tools. We are within the fourth industrial revolution, presenting a quickly changing data landscape. To help prepare for growth, build data into every business activity, not just select areas.
Realizing Efficiency Without Cutting Resilience
With the rise of artificial intelligence and better analytics tools, greater efficiency is likely to follow. Though the pandemic certainly threw a wrench in the path to increased productivity, it also served as a catalyst for the rise of automation and contactless supply chains. While initially these efforts were focused on health and safety, companies quickly found that the resulting efficiency benefited the business and created its own noticeable impact.
The goal of accomplishing the most with the least amount of resources has been the standard since the Industrial Revolution. But, efficiency cannot be the only goal, or else any disruption can sidetrack progress. Over the long term, resiliency is just as important as efficiency in building a successful supply chain. Companies with no wiggle room for disruptions risk catastrophic failure — something COVID-19 showed us in full.
This doesn't mean you need to forget about efficiency. Software and automation can provide you with failsafe mechanisms to simultaneously cut costs and build up resilience. Powerful new tools allow you to cut costs and realize maximum efficiency without sacrificing a resilient failsafe. Partnerships, inventory and warehouse minutia are monitored closely with less chance for human error.
Keeping Up with Risk in a Post-Pandemic Environment
Equipping yourself with new technology is not a matter of if — it's when. Last year, a Mckinsey survey found that 93% of supply chain professionals plan to focus on resilience of their supply chain, and 90 percent will invest in digitization professionals. While much of the industry stayed afloat during this crisis, the pressure to adapt and innovate has never been greater. The whole process behind supply chains will continue to evolve as the technology surrounding it advances.
As a competitive advantage, using technology to drive resiliency will help you shelter future crises. Start by evaluating your current risk areas so that you can focus on areas that are the most susceptible to disruptions. After an operational assessment, do an analysis of return on investment to correct those areas and compare the costs of improvement with the potential opportunity of being able to deliver in time of difficulty when your competitors can not. Finally, create a strategy for transformation with a roadmap that provides incremental wins.
The Final Word
Transparency and resilience are the new norm, and rethinking how your company views their practices and technological ability will keep you ahead of the competition — increasing your efficiency while staying prepared for any future risks.
Steve Shebuski is the Vice President of Digital Transformation at Blue Horseshoe. Steve has 20+ years of experience as a Program Manager/Design Lead/Project Manager implementing Microsoft Dynamics 365 as well as tier I and tier II warehouse management and transportation software solutions. Steve's deep knowledge within the distribution industry and his innovative approach to solution architecture are the backbone of the solutions implemented and deployed by Blue Horseshoe.