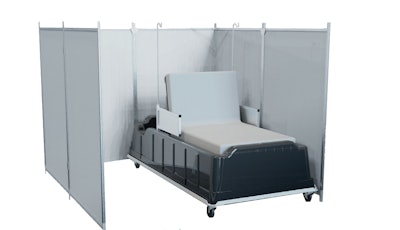 When the United States saw its first spike in COVID-19 cases in the spring of 2020, much of the nation braced for the overwhelming demands that could be placed on hospitals. Many cities in hard-hit states initiated the set-up of field hospitals, turning convention centers and other spaces into medical care facilities. Thankfully, most of these facilities would go unused. However, April saw large spikes in demand for key supplies, including hospital beds.
Pallet manufacturer TriEnda rose to the occasion, transforming its operations to manufacture hospital beds while continuing to service customers in essential industries such as grocery, retail, mail-order and shipping.
By April of 2020, the Army Corps of Engineers was eyeing 114 sites across the U.S. to convert to field hospitals. Seeing the situation develop rapidly in early March, the leadership team at TriEnda, the largest heavy-gauge industrial thermoformer in North America—and prominent pallet supplier, took action. The company still had to support customers that were undergoing their own challenges, but David Kruger, founder of TriEnda's parent company KFI, was determined to support medical professionals as well.
On Wednesday, March 18, he turned to his team for inspiration. By that Friday, he had a direction.
The company's experience in producing fold-down beds for the Class A trucking industry, combined with its experience in designing pallets as returnable packaging, could serve a uniquely important need as hospitalizations—and the expenses of field hospitals—mounted. Regular hospital beds are complex and often expensive to produce. The team at TriEnda could offer an alternative.
"We knew we could draw on our expertise to offer a design that would be easy to sanitize, comfortable for patients and cost about a tenth of a normal hospital bed," Kruger said. The company assembled a team of engineers and industrial artists to design a solution. The goal was to put a line of hospital beds on the market within five weeks.
The Solution
The final design was simple but highly effective. TriEnda's background equipped the team with knowledge of the various push and pull points that must be balanced. Additionally, they possessed Finite Element Analysis (FEA) modeling to identify the stress and deflection points that occur when people sleep in thermoformed beds.
The result was a nestable and stackable bed base manufactured using thermoformed high-density polyethylene (HDPE) materials that can be disassembled and stored with a minimal footprint. The design is similar to returnable packaging, which was a perfect starting point for understanding these requirements. The base can hold up to 800 lbs. and features a multi-position back support, swing-arm side rails that can be locked if required, and IV bag stand placements.
A six-inch thick mattress, coupled with the multi-position backrest, provides comfort, while secure under-bed storage was also incorporated for personal items. Smooth surfaces and removable plastic liners also make the beds easy to clean and disinfect.
The expediency of the project wasn't the only hurdle, though it was a significant one. Just the molds for new pallet designs can take four-to-six weeks to produce. TriEnda also had to retool its lines to produce the beds and balance the needs of its customers.
Keeping Up With COVID
TriEnda's customers faced a range of challenges in the early weeks of the pandemic. Grocery retailers struggled to meet the skyrocketing demands fueled by a public that bought up essential goods amid the uncertainty of the lockdowns. At the same time, mail and shipping companies found services in high demand as Americans took to online ordering.
To meet these demands, while adhering to stricter safety precautions and preventative measures, these businesses needed the attention and dedication of their suppliers more than ever.
To ensure continued support of customers while introducing the line of disaster relief products, TriEnda leaned on both in-house experts and external resources. The team shifted pallet production to other lines as it retooled two lines to run the bed components.
While cutting bed patterns of medium-density fiberboard (MDF), local foundry facilities concurrently cast the aluminum molds alongside all sets of tools for the bed and backrest assemblies. This enabled the production of the beds to start on April 16th, less than a month after initial concept development. The bed components were run on two different machines, producing about 1,100 units per day, with the ability to scale up if needed.
All the while, TriEnda continued to service customers to stay at a pace to send out over 1.5 million pallets this year.
A Permanent Offering
By late spring, TriEnda was supplying beds to hospitals. The Home Base Veteran and Family Care Hospital in Massachusetts placed an order for 200 beds. Among the first customers was the Aspirus Divine Savior in Portage, Wisconsin. "I can't believe how easy [the beds] were to assemble," says Dan Arkins, senior director of development, Aspirus Divine Savior. "Feedback from the clinical staff has been very positive. TriEnda was great to work with."
The staff at Aspirus Divine Saviour saw another advantage to the beds. Portage is also home to TriEnda and sister company, Penda headquarters and plastics manufacturing facilities. "Not only are we grateful to have items as useful as [the beds] as we plan for future surges, but we are also so proud that they were created and manufactured in our very own town," says Dr. Joshua Pogorelec, General Surgeon and Surgical Services Medical Director at Aspirus Divine Savior.
As the country learns to function under COVID-19, demand from grocery retailers and shipping companies has steadied, normalizing the rhythm of business. TriEnda grew its permanent product portfolio with the additions of the Humanitarian Disaster Relief bed and an Emergency Disaster Services (EDS) cot. FEMA would go on to purchase 900+ beds, which are currently on-deck for use to aid victims of the recent hurricanes that hit Texas.
While COVID-19 has caused the cancellation of many industry events, the manufacturers of essential goods and medical products can still find avenues to build a supportive network of dedicated suppliers. "While the pandemic has caused disruptions in the lives of so many people and industries, it has underscored the importance of resilience and versatility in the partner organizations we choose to work with," Kruger says. "We hope our endeavor to both provide a new line of essential products while providing unwavering support to businesses in the shipping and grocery retail industries demonstrates that determined suppliers can do both."
PACK EXPO Connects and PMMI, The Association for Packaging and Processing Technologies, provided this article. To learn more about the organization, go to PMMI.org.