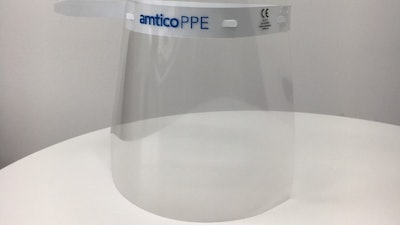 While these are challenging times for many industries and businesses, one of the major positives is how so many people, companies and organizations are pulling together to help combat COVID-19.
In March 2020, Coventry, UK-based flooring manufacturer Amtico joined forces with a secondary school to produce life-saving face shields for frontline NHS staff and critical key workers nationwide. Gary Wilson, Head of Technical at Amtico, estimates this partnership has helped produce between 70,000 and 100,000 items of essential personal protective equipment (PPE) to date – which have been supplied to health care providers free of charge.
Amtico is renowned for its luxury vinyl tile (LVT) flooring, but when the coronavirus outbreak struck, the company was keen to utilize its machinery and manufacturing experience to help those in need. While assessing the possibility of using its factory to produce aprons or other forms of PPE, an unexpected opportunity arose via the Merchant Taylors' School in Hertfordshire – which happens to be Amtico CEO Jonathan Duck's old school.
While browsing his alma mater's website, Duck saw that the school was making protective face shields using a 3D printer – and had recently appealed for partners to help increase production. Duck alerted Wilson, who reached out to Andrew Duffey, Head of Design, Engineering and Technology at Merchant Taylors' School, and offered to lend Amtico's support.
"The school was basically purchasing PVC transparency material – the same that was used for old overhead projectors – and then cutting it themselves to form the shield component. They were then 3D printing the headbands before clipping them onto the shield," Wilson explained. "However, since we produce PVC film as part of our floor manufacturing process, I thought this was an area where we could utilize our expertise to help."
Duffey sent Wilson the original 3D-printed headband design the school was using; which consisted of three separate components, which were then clipped to a clear acetate visor. Amtico's team of technical, CAD and cutting specialists then adapted this design, reducing the number of components so the headband was not only more secure and structurally sound, but also faster and more efficient to assemble.
"We made some adjustments to our cutting programs and one of our material recipes to produce some prototypes – and that's really where it started," said Wilson.
Amtico created a new composition of the 1mm wear layer used in its Signature LVT flooring product specifically for the headbands, ensuring the best balance between flexibility and rigidity. This new material was also sturdy enough to allow the face shields to be sanitized and reused multiple times.
However, because the PVC material that Amtico uses for its flooring is laminated, it would have taken significant modifications to deliver the clarity required for the visor component. As a result, a partnership was established – with Merchant Taylors' School continuing to produce and cut the visors, while Amtico manufactured the headbands.
The face shields were fully assembled at the school, where the headbands were clipped onto the visors, prior to their distribution by a network of regional volunteers. Up until Amtico's involvement, Merchant Taylors' School was producing 650 face shields per week; but once they joined forces with the flooring company, this increased to 4,500 units per week.
The first batch of samples was then taken to Watford General Hospital in April 2020. The hospital, similar to many health care facilities in the UK at the time, was experiencing a critical PPE shortage. Duffey showed the prototypes to an ICU surgeon, who approved the design on the spot and immediately ordered 2,000 units. These were then produced by the school and Amtico, free of charge, within seven hours of NHS approval.
According to Wilson. "We experienced a few initial teething problems in terms of setting up the cutting programs, and then getting the right recipe for the headband. But, because we make several different plies for our flooring product, we had a number of options available – and actually ended up tweaking one of our existing recipes to create the headband material.
"Although this might sound quite complex, it was not that difficult for us to do. Plus, we've got an excellent CAD team, full of expert programmers who can implement new procedures very quickly."
Following the initial success of the face shields, Amtico sought to supply the products to the National Health Service. However, in order to do business directly with the NHS in the UK, new suppliers have to apply for a CE mark. This must be displayed on all medical devices sold in the European Union to verify they meet the necessary safety, health or environmental requirements. During the pandemic, any company looking to become an official NHS supplier had to apply to the Crown Commercial Service, as they were managing NHS procurement.
Amtico immediately began the certification process but, in the meantime, while their application was reviewed, they continued to work with Merchant Taylors' School, reaching out to hospitals, dentists and other organizations in need of PPE.
Now looking to build upon its involvement in the health care sector, Amtico has decided to start producing face shields commercially. Having recently received its CE mark in July 2020, the company is now listed on the government's official PPE procurement service website. The Amtico Coventry plant is able to make up to 20,000 headbands a day, while one of its suppliers produces the visors.
Wilson thinks there are opportunities for Amtico to provide face shields not only in the United Kingdom, but also throughout Europe and Asia: "Originally, we got into this because we wanted to help," he concluded. "We were doing it free of charge, because obviously making money at the time wasn't the critical thing to us – it was something beneficial we could do using our existing skills and facilities. Now we've moved beyond those initial stages, we do this pretty well, so it made sense to seek out opportunities to supply essential PPE further afield, including other countries."