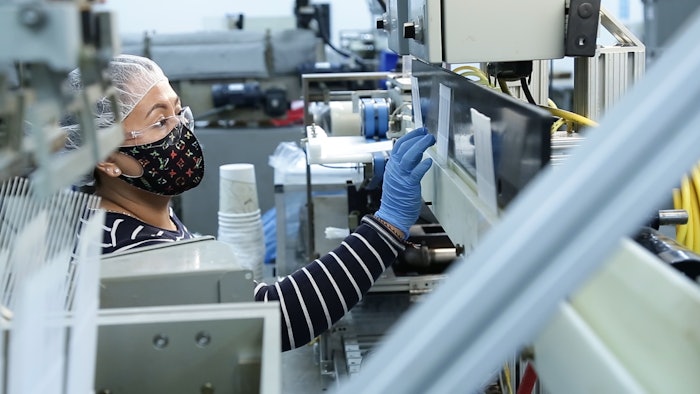 Grafton, Wisconsin-based Microbrush is a leading supplier of disposable tips, or applicators, used by dentists and hygienists to help clean and care for teeth. Faced with the opportunity to help address a national shortage of COVID testing supplies, the subsidiary of Chicago-based Young Innovations was able to adjust production, workflow and its supply chain in producing test swabs in less than eight weeks.
The company has become one of only two U.S. manufacturers making the unpopular, but but vital swabs, and has produced over 20 million of them since making the transition. We recently sat down with Dave Sproat, CEO of Young Innovations to discuss how the company was able to learn about clinical requirements, build new molds, design user-friendly, sterile packaging, and ensure the swabs met all technical requirements.
Jeff Reinke, editorial director: Can you share some background on the company and the use of the test swabs?
Dave Sproat, CEO of Young Innovations: Young Innovations has been a leading manufacturer in the healthcare space since 1900. The Microbrush division, located in Grafton, WI has a proven track record with annual production of over 600 million applicators for the dental market. That expertise proved to be a transferable skill for producing COVID-19 test swabs. What historically could take years, took us 90 days. With help from Proctor and Gamble and other healthcare partners in the U.S., a dream became a reality. 
JR: Can you share some of the timelines and deadlines you encountered in making the transition? 
DS: With the trauma of COVID-19, we saw a once-in-a-lifetime opportunity to repurpose our dental micro applicator technology to help solve a global public health crisis. Before the pandemic, we didn't even know this type of testing swab existed, but we seized the opportunity, and quickly manufactured a commercial product that is being developed and sold, all in the United States.  
We recognized the need for swabs immediately back in March upon seeing a research article and we immediately knew we had the ability to produce them.  The question was really how fast we could get the tooling done.  At first, we modified one of our dental molds using mold inserts, as that was the fastest track, but it wasn't actually a nasopharyngeal swab. 
Upon linking up with P&G's iMFLUX division, we were able to get a proper nasopharyngeal mold completed much faster than our expectations, and we had the whole project completed, in production, and in market within 90 days. The modified dental mold has actually come back around as a viable solution for anterior samples for supervised or home collection methods. 
JR: What have been some of the changes or adjustments associated with this production shift?
DS: This wouldn't have been possible without fantastic partnerships. In mid-March, we learned of the shortages in diagnostic supplies and reached out to various partners to better understand the situation. We collaborated with iMFLUX, a wholly owned subsidiary of Proctor & Gamble, to develop a mold, and with Flexan, a Linden Capital Partners portfolio company, to consult on packaging design.
By May, the team coordinated clinical tests for design validation with several hospital systems, including the Veterans Administration.  All of the raw materials in the swab itself leverage our existing supply base. 
With Microbrush's existing production levels in excess of 600 million annually, the Grafton facility already had achieved relatively substantial scale. So, even adding 10's of millions of swabs wasn't a material increase in consumption.  We did procure extra raw materials initially, but this was not a challenge. Managing the packaging and sterilization supply chain was a new challenge for us and the team has managed it extremely well. 
The tooling and equipment cost us tens of millions of dollars. It is a big investment with substantial risk to our business. The most important thing is that our team has taken great pride in being able to shift and innovate, while producing something that is so critical to our nation's recovery. Our investment in this project is also an investment in hundreds of employees, including manufacturing workers who were previously furloughed, and many other employees throughout our company who are thrilled to be helping our country through this unprecedented crisis.
We have also invested in two new production lines and a packaging operation, which is actually being performed at an auxiliary building down the street from our main plant. That packaging line requires a clean room so there was infrastructure related to that as well. 
On an overall basis, the largest adjustments were related to the supply chain as we learned to manage outside contractors and production across multiple sites, albeit locally.  
JR: What were some of the things you learned about your people during this process? In dealing with the pandemic as a whole?
DS: We have great people, and this was a remarkable accomplishment in a short period of time. We saw an important opportunity, and we had the technology and expertise to do it, the right way. It was risky, but our whole team was excited to do good for our country and we were dedicated to a very accelerated timeframe.
The Microbrush testing swab that we created is the gold standard of swabs: it meets all FDA requirements, is safer and more comfortable than others on the market, including 3D printed swabs, and reduces reliance on questionable and unreliable international supply chains. 
Everyone at the factory is really excited to be contributing to the COVID-19 testing effort. It feels great to be doing our part to curb this pandemic and I couldn't be prouder at how our team has responded to meet the immediate needs of this global shortage. It's given us a new sense of purpose in our jobs, and we're thrilled to be able to produce up to five million swabs a week. 
JR: Are these test swabs something you'll continue to offer into the extended future?
DS: Yes, we see this as an ongoing product line for the business.
JR: What is the state of your core business?  
DS: While our core market is dental, and the state of that business is completely tied to patients sitting in the dental chair, our core business remains healthy. 
JR: Were there any best practices picked up from this experience that can be utilized going forward?
DS: Pivoting to the COVID-19 testing swabs involved tapping partners to learn about clinical requirements, building new molds, ensuring the swab met technical needs, conducting user validation, and designing easy-to-use sterile packaging, all while also making in-roads into the complicated world of COVID-19 medical supply market.
We've learned that anything's possible with the right focus and the right team to execute. While we've spent tens of millions of dollars to scale up production, we actually had the first several million units produced with less than $50k in investment. This was a great example of starting off with a small investment to gauge the market and then rapidly scaling up after receiving great feedback. 
This process was very atypical from our normal product development efforts which would have consisted of several rounds of market research, prototypes, and user feedback prior to going to building hard tooling and going into production. With the help of the Cleveland Clinic, Children's Hospital of WI and the local VA Hospitals all providing input, along with our core competency, we were able to confidently ramp this product straight into production. 
Further, it has been well received by users with great reviews. We will be transferring many learnings from this project to our normal product development activities, especially as it relates to getting new products to market faster and with lower initial investments. 
The company also produced this video, highlighting the product and their facility.