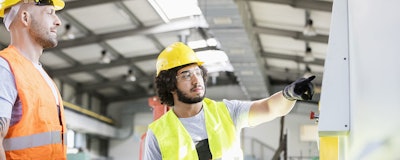 The next-generation manufacturing plant will incorporate digital technology to maximize its efficiency and raise productivity. As more facilities adopt additional technology, customers will come to expect a given level of service. Stay competitive through digitizing your manufacturing plant and reap the benefits.
Reduce Energy Usage
Digitizing your plant can save you money beyond just increasing productivity. Digital technology allows you to track your energy usage in real time. With this information, you can see what equipment uses the most energy. This gives you the chance to make changes and save money on energy costs in your facility. The result boosts your profits.
Flex, a company that adopted digitalized processes, saved 30 percent on energy use. The company also predicted a savings of more than $1 million per factory with continued use of the automation and digital information that comes with it. Saving this much often allows digitized facilities to pay for themselves through the ROI in a few years, depending on the amount invested.
Improve Communications With Suppliers
Through real-time communications, you can find out where your supplies are at any given time. This improved supply chain information can help you better manage your operations. Improvements in supply chain management are especially clear in short-notice aspects of the system. Of managers surveyed, 43 percent noted a strong increase in their ease of sourcing just-in-time products with digitalization.
Predict Maintenance
To keep your facility up longer, predict when to conduct maintenance rather than reacting to breakdowns. With predictive maintenance, connected devices send a signal to workers to repair the item as its reliability drops. This process also reduces your need for on-call maintenance workers, since your equipment will work longer with less unplanned downtime. A large chemical facility digitized its maintenance and saw an 80 percent drop in unexpected downtime.
Raise Productivity
Digital technology can help your current workers become much more efficient. At a DHL facility in the Netherlands, employees equipped with augmented reality goggles saw a rise in efficiency of 25 percent. The goggles showed the workers the best and fastest route to take through the warehouse when picking items. They fulfilled 9,000 orders in 10 days and picked 20,000 different items much more accurately with the goggles than they historically worked.
Increase Innovation
With product development, you can increase innovation by cutting the time from development to deployment. Using real-time data, product development can more rapidly meet changing demands. Even higher-tech data evaluation can predict when trends will change, similar to how predictive maintenance works. Meeting customer demands quickly can reduce the amount of unsold product, lowering waste.
Boost Efficiency
Operating a facility can be done from a centralized location. This improves the ability of a supervisor to see all lines and take control where needed. When working a central control system, a supervisor can be everywhere in the plant at once. Thanks to controls at his or her fingertips, enacting decisions immediately is simple, cutting on downtime.
With a digitized supply chain, companies can increase revenue by 2.9 percent and raise efficiency by 4.1 percent. These same savings in a supply chain reflects in manufacturing plants, as well.
Make Your Storage Smarter
Digitizing makes your storage facilities smarter. You can make your warehouses and document storage centers more efficient and reliable. Digitizing your paper documents protects them from natural disasters while freeing up space. Warehouses with automated storage and retrieval systems (AS/RS) use the available space more efficiently.
A warehouse with AS/RS can have higher shelves and narrower aisles than a facility that relies on forklifts and humans for retrieval. Additionally, automating the storage system reduces the number of trained employees required. It also keeps the workers in the warehouse safer, since they won't operate forklifts and other heavy machinery for item storage.
Digitize Your Plant for the Future
Though it requires an investment, digitizing your manufacturing plant will net you numerous benefits. These can put your facility at an advantage in the fast-paced world of increasing technology. If you don't integrate automation into your plant, you'll lose your edge and could find yourself falling behind. Don't leave your facility in the 20th century. Get the technology now to bring your plant up to date.
Megan Nichols is a freelance science writer.