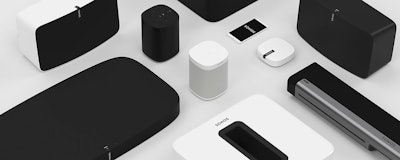 Sonos, the company behind the popular wireless home audio system, successfully made its stock market debut earlier this month. Having priced its IPO at $15 a share, Sonos generated gross proceeds of $95.8 million from the initial public offering, valuing the company at $1.5 billion. In its first two days of trading, Sonos shares climbed up to $23.60 before suffering their first decline on Monday.

While the early market reaction indicates healthy demand for Sonos' shares, there is also a fair amount of skepticism regarding the company's long-term prospects. Not only do Sonos speakers compete with heavyweights such as Amazon, Apple and Google, but the company also takes pride in the longevity of its products, which some investors see as a red flag because it also means long replacement cycles. While Sonos argues that satisfied customers will eventually add speakers to their home audio setup, which its numbers support, some investors prefer products to have a shorter life span.

It'll be interesting to observe how Sonos will fare in the long run. Recent consumer hardware IPOs have certainly set a bad example for the Santa Barbara-based company. Both GoPro and Fitbit saw their shares rally initially before declining sales eventually caused their stock prices to crash. As the following chart illustrates, both companies' shares have dropped by roughly 80 percent since their first day of trading – a fate that Sonos will want to avoid at all costs.