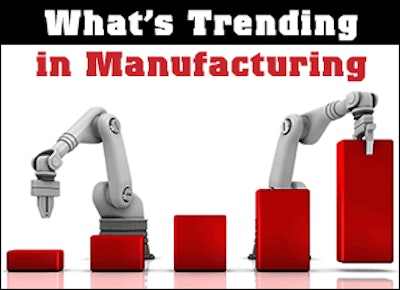 Here's a deeper look into the top trending stories in manufacturing today based on reader feedback. General Motors working on 200-mile electric car; reshoring in the U.S.; and food manufacturing violations. Below these stories, check out links to other related news and features at Manufacturing Business Technology.
---
WARREN, Mich. (AP) -- As automakers race to make cheaper electric cars with greater battery range, General Motors is working on one that can go 200 miles per charge at a cost of about $30,000, a top company executive said.
Vice President of Global Product Development Doug Parks wouldn't say when or if such a car will be built, however.
Currently GM sells the $35,000 Chevrolet Volt plug-in hybrid, which can go 38 miles on electricity before a gas-powered generator kicks in. It also offers the all-electric Chevy Spark subcompact that can go 82 miles on a charge. It starts at $26,685. Electric cars are eligible for a $7,500 federal tax credit. Continue reading...
It appears to be a race for the future of automobile technologies to see what comes out on top. With hybrids, plug-ins and hydrogen vehicles making headway, it's anyones guess as to what will stand out with consumers. GM's latest announcement seems to take a direct swipe at what critics feel is the downside of all-electric vehicles like Tesla--the limited distance of an all-electric vehicle due to scarce availabilty of charging stations in the U.S. currently.
---
There's been a lot of buzz about the reshoring of American manufacturing business that had previously been lost to other regions. The talk seems to center on three areas:
Is reshoring actually happening?
Are we really going to make up for all the jobs lost to countries with lower-cost labor, primarily India and China?
What can we learn from success stories in order to achieve more reshoring?
Reality or Wishful Thinking?
Virtually all analysts agree that, yes, many American manufacturers have been successful in bringing some previously lost business back home. But it's happening at a slower pace than the industry had hoped. According to Henry Moser, the founder of the national Reshoring Initiative, the actual rate of reshoring is somewhere between a trickle and torrent. Continue reading...
Commentor Philly Jim had this to say about reshoring:
"I have spent time in my career in both manufacturing and technology (mostly software). For both groups, reshoring ends up decreasing the cycle time between necessary 'fixes.' Since any repairs or upgrades are rarely one-and-done, keeping manufacturing and engineering together makes releases far quicker. Too, the fixes can be done with a better view of the long term impacts. Because a fix is almost never a single shot, the series of fixes can be guided to vastly improved the structure to make future changes."
---
In a similar story last week, Manufacturing Business Technology looked at the other side of reshoring.
Is manufacturing coming back to the U.S.? Some may be returning, but the single best answer is "No".
No, there is not a mass movement to bring manufacturing back to the U.S. No, we are not moving away from global supply chains. No, the U.S. does not have a large workforce waiting to take low paying jobs.
I have heard the opposing opinions, and I agree that some companies may benefit from having manufacturing closer. But look before you leap, because reshoring is not always a good idea. Continue reading...
Harry Moser, founder of The Reshoring Initiative chimed in on the conversation and had this to say:
"You make some good points. However, the reshoring trend is much stronger than you imply. In about 25% of the cases of offshoring, the U.S. price is higher but the U.S. total cost is lower. The not-for-profit Reshoring Initiative's free Total Cost of Ownership software helps corporations calculate "hidden costs" and thus recognize the real P&L impact of reshoring or offshoring .
"Reshoring has grown rapidly since 2010 and offshoring is slowing to the extent that the two processes are about in balance for the first time in decades. The Reshoring Initiative tracks all reported and some private cases of reshoring and concludes that about 80,000 manufacturing jobs have been reshored since Jan. 1, 2010.
"More than 200 larger companies have publicly announced reshoring actions. These actions inevitably impact thousands of domestic suppliers.
"Readers can help bring back jobs and increase profitability by asking their companies to reevaluate offshoring decisions. Suppliers can use the TCO software to convince their customers to reshore."
Readers can reach Harry Moser for help at Harry.moser@reshorenow.org.
---
MODESTO, Calif. (AP) -- A Central California cereal plant will have to spend more than $2 million for violating federal air quality rules.
The Environmental Protection Agency says Friday that Post Holdings Inc. and Ralcorp Holdings Inc. will pay a $635,000 penalty for failing to install air pollution controls at its cereal plant in Modesto. Continue reading...
Post's problems pale in comparison to the issues Chiquita Brands, Gourmet Provisions and Royal Cup Inc. are dealing with right now as reported on MBTMag.com. You can read more about their issues here:
---
If you'd like to weigh-in about What's Trending In Manufacturing, leave a comment below or Email me at Jon.Minnick@advantagemedia.com.