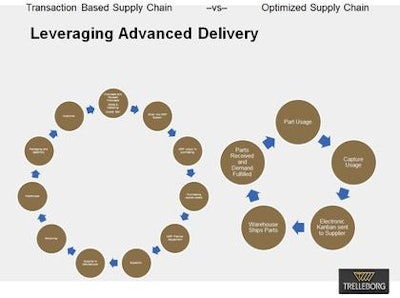 Making decisions with the right information makes all the difference in the world. Everything else is just guessing. In an increasingly competitive environment and unpredictable economy, no business can afford to play the guessing game. Getting the right information in front of the right person in a timely manner that can assist with decision making is of critical importance in order to gain insight, improve performance, identify growth trends and eliminate mistakes.
Lately, more and more companies are requiring the use of business intelligence (BI) as a critical component of operational success in order to innovate and compete. Recently, CFO.com highlighted a new study by staffing firm Robert Half Management Resources, in which 2,100 U.S. CFOs were polled, more than half (61 percent) say that business intelligence and data mining are integral to their ability to interpret financial and business analytics.
With the ever-shifting technology landscape, there has been a sea change in the availability and value of data and information. Whether your goal is to streamline operations, improve AP Processing, or increase the flow of information between physical locations, smart businesses — from large to small — understand that empowering teams with timely, accurate data is critical to attaining these corporate goals. With added transparency, businesses can utilize accurate, real-time information on everything from employee performance to financial management helping them to make more informed decisions on internal and external policy, financial forecasting and overall efficiency.
"We are rapidly heading towards a world of analytics everywhere," said Dan Sommer, principal research analyst at Gartner." Gartner predicts that analytics will reach 50 percent of potential users by 2014. By 2020, that figure will be 75 percent, and we will be in a world where systems of record, systems of differentiation and systems of innovation are enabling IT, business and individuals to analyze data in a much denser fashion than before. Post 2020 we'll be heading toward 100 percent of potential users and into the realms of the Internet of Everything."
Mining data, creating custom reports and dashboards and developing a cohesive, informed operational strategy based on your company's needs is no longer just for the big enterprise. Agile, cost-effective, cloud-based data solutions available today can help small and medium-sized businesses reap the same business intelligence rewards as Fortune 500 companies. From document management to AP Processing, ERP integration and more — every industry can access the tools needed for capturing the right data to improve business processes.
So how can your business take advantage of analytics? Start with what you "think" you know.
Review the bottlenecks and inefficiencies you "guess" are causing you a loss in time or revenue, and put them under the microscope. Identify the issues critical to you.
Are you getting slapped with late payment penalties?
Corporate compliance issues?
HR data files incomplete?
Lack of interdepartmental communication and cooperation slowing you down?
Which files have been reviewed? Which have the correct approvals?
The list goes on. Measure the time and talent it currently takes to get the important work done and then look for software that can help streamline your inefficiencies. As a starting point, many companies simply need flexible systems that enable the electronic capture of relevant documents and data in a central database. Once you have the data in a document management system — you can then retrieve data via reports or graphical dashboards that provide real-time information to help identify key bottlenecks and manage workloads so you can stay ahead of the issues and make a correction when needed. With a centralized document management system — everyone has access, wherever they are — creating a more transparent environment for making the right business decisions.
Look at where your data lives.
Often the obstacle to real data analysis is simply that data resides in too many silos. Many times it resides on a piece of paper on someone's desk, or buried in a file cabinet (circa 1950). If you have different physical locations or a network where not everyone has access to the same data, you are going to need a system — whether a cloud or on premises based solution that grants users access to the same data in real time — with the correct security settings. Empower employees to access the data they need to get their jobs done and to manage effectively while removing the physical barriers. The best way to do this? Get your documents into a system that can transform paper to actionable information.
The good news is you're already surrounded by data. You just need to make sure you can harvest it efficiently to meet your needs. Let's take invoice processing for example. It can take weeks (or more) to process a paper invoice. Invoices can be lost, missing data buried and one piece of paper can be impossible to locate without extensive searching. Document management systems with intelligent data capture and workflow will reduce the "procure-to-pay" process through intelligent data capture and workflow with automatic inbox notifications and indexing information at the touch of a button. You know the status of every payable at every point in the process, in order to measure performance, gauge roadblocks and identify an issue before it becomes a problem.
In an Aberdeen Group report, research analyst Peter Krensky suggests in an effort to achieve agility, "…organizations should work to automate data processes as much as possible while empowering users by increasing their analytical access and acumen."
Seek the truth.
Look for systems with embedded analytics and reporting. Products that have built-in business analytics reporting tools can be most useful as they don't require the additional data entry step. By automating, monitoring and reporting on business processes, management teams eliminate time consuming manual paper processes and doing double or even triple data entry. Business intelligence is pulled automatically from information that is already available. When you add in rules-based workflow automation, you increase the chances that the right data gets routed and approved in a timely fashion, ensuring the information you need is ready for reporting and analysis. With workflow queues you gain real-time insight into any document or package workflow, helping teams to manage workflow process efficiency and gain greater knowledge about internal processes and areas for improvement. What took weeks or months previously, (or what was never measured before) transforms into actionable information at your fingertips.
Take advantage of your data.
Gaining an understanding of which operational issues are negatively affecting your business, tracking the process and developing a new, more efficient way to work is one of the benefits of seeing information in real time, but it requires a "…deeper, more pervasive use of analytics."
Gaining access to key performance indicators (KPIs) can help businesses grow efficiently and make changes based on actual data. Whether the information is shared via a dashboard or regularly scheduled report — all managers can have access to the same information, and drill down into areas where more detail is needed. With access to data, users don't need to strain IT resources in order to get to the information they need and IT can focus on more important issues.
When utilized correctly, businesses that develop and measure KPIs from their data had a true ROI. In a recent Aberdeen report, Cloud Analytics in 2014: Infusing the Workforce with Insight researchers found that Best-In-Class companies experienced a 50% greater year over year increase in operating profit and more than double the reduction in operating costs compared with all others. Utilizing KPIs to measure ROI can help justify the expenditure of cloud technologies.
As mentioned in an Aberdeen Group report focused on the use of cloud analytics in large enterprises for the purpose of achieving ROI, "…Cloud analytics offer the agility and reach to get powerful tools and pertinent information to the right people where they are."
Be flexible.
According to a recent study by Forrester Research, the majority of organizations continue to struggle to get the desired value out of their business intelligence due to insufficient or inaccessible data, excessive or "wrong" data, untrustworthy data, unacceptably long turnaround times for new reports or other BI capabilities, or BI tools that just are not right for the job.
With new reports to help you identify and capitalize on growth trends and process optimization in a number of areas — including regulatory compliance, operational efficiency and more, you will need to adapt to change. Review reports and key data analysis with management teams to answer outstanding questions and make sure you work with vendors who have the flexibility to add capabilities for other departments, documents, reports and dashboards as you grow.
The Forrester Research study goes on to suggest:
"... How companies use the data that's available to them from internal and external sources is increasingly going to be a key competitive differentiator, if not the key competitive differentiator. Firms need to adapt their governance frameworks, technology infrastructures, and tools to strike the right balance between enabling the business to get on with its job and maintaining control where necessary to avoid cost overruns, duplication, and compliance breaches."
Without the use of real data, businesses are unable to truly affect change for the better. By reviewing KPIs on a daily, weekly, monthly or annual basis, managers can make informed decisions about their business.
The bottom line is this. In order to reduce costs and transform your business you need to identify the information you need and utilize IT intelligence with business acumen to get you there. By putting the right workflow structure and technology in place, you can start gaining real-time intelligence to help you make informed decisions that can propel your business forward.
"Intelligence is the ability to adapt to change." Stephen Hawking
Jeff Frankel is Executive Vice President and Principal at docSTAR.
---
To read more manufacturing and technology news, sign up for our newsletter. You can also follow Manufacturing Business Technology on Twitter @MBTwebsite.