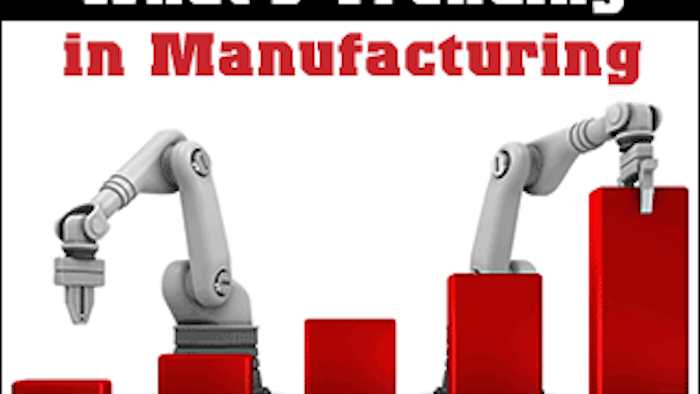 Here's a deeper look into the top trending stories in manufacturing today based on reader feedback: Meat labeling rules; the truth behind McNuggets; and a toilet prank gone wrong. Below these stories, check out links to other related news and features at Manufacturing Business Technology.
---
In Case You Missed It: Meat Labeling Rules Could Start Trade War
Meat and livestock groups upset that Congress opted in the new farm bill not to back off from mandatory country of origin labeling requirements are worried the issue could start a trade war with Canada and Mexico.
Previous labeling rules required only the country of origin to be noted, such as "Product of U.S." or "Product of U.S. and Canada." New rules that took effect last year require that labels for steaks, ribs and other cuts of meat include clear information about where the animals were born, raised and slaughtered. Labels must specify, for example, "Born in Mexico, raised and slaughtered in the United States."
"That's a really big label on a package of meat that doesn't really guarantee anything," said Cory Eich, president of the South Dakota Cattlemen's Association.
Country of original labeling supporters, including consumer groups, environmental groups and some independent farmers, say the requirements give consumers valuable information. But livestock groups and meatpackers say it's costly to have to segregate and track animals along the entire supply chain.
Meanwhile, in early January, Jim Spencer of the Minneapolis Star Tribune reported that the meat industry launched a legal assault against the nation's food labeling laws that, if successful, could significantly limit consumers' ability to learn the origins of what they eat.
The move came in a federal appeals court hearing where trade associations representing meat companies such as Minnesota-based Cargill Inc. and Hormel Foods Corp. attempted to kill new government labeling standards.
Their lawyer said the labeling rules violate companies' free speech by forcing them to reveal information that will not protect the public, but will cause "irreparable" financial harm to the largest segment of U.S. agriculture, which generates hundreds of billions of dollars a year in sales.
At issue are newly implemented U.S. Department of Agriculture rules that force meat producers and processors to list the countries where animals used in their products are born, raised and slaughtered.
Stetson told the judges that absent any specific, substantial evidence of health and safety problems or misleading advertising, the mere desire of Americans to buy American products was not enough to make the labeling rules constitutional.
Chief Judge Merrick Garland said that such an interpretation could make all reporting requirements unconstitutional. He also pointed to the desire of the U.S. House and Senate in passing food labeling laws to let Americans purchase American products for health and patriotic reasons.
---
After several stories in the news on "pink slime" and finely texture meat, McDonald's Canada wants consumers to know that's not how they do business by answering the question of what exactly is in McNuggets by taking us behind the scenes at the London, Ontario, Canada factory where they're made. 
---
Pa. Man Paralyzed By Tipped Toilet Prank Gets $5M
PHILADELPHIA (AP) -- A man left paralyzed from the shoulders down when his relatives tipped over a portable toilet while he was inside has settled a Pennsylvania lawsuit against the toilet manufacturer, the relatives and others for $5 million.
Donald Adams III was on a camping and fishing trip with two cousins-in-law at the time, The Legal Intelligencer reported Wednesday.
The newspaper, quoting filings from Sullivan County in northeastern Pennsylvania, said the relatives backed their truck up to the toilet to lock Adams inside as a prank. However, they inadvertently knocked the toilet over when they banged on it and shook it, the lawsuit said. Continue reading...
Who do you think should be at fault for this prank? Do you think the manufacturer should be liable for someone else's shananagins? Feel free to leave your response below. 
---
If you'd like to weigh-in about What's Trending In Manufacturing, leave a comment below or Email me at Jon.Minnick@advantagemedia.com.