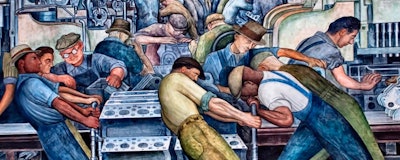 America's domestic manufacturing industry is alive — and still impacting the U.S. economy, despite rumors of its demise at the hands of high-tech advances and allegations of mass migration of U.S. manufacturing jobs overseas.
Since 2009, manufacturing has been undergoing a bit of a resurgence. The industry has gained a little more than 800,000 jobs. But a good chunk of those jobs are very high-tech in nature. The low-skilled manual labor factory jobs of the 1940s and 1950s have essentially gone away.
The industrial resurgence came with somewhat of a metamorphosis, with production efficiencies growing from the implementation of modern-day technology — and manufacturing centers moving out of the older, major Midwestern cities within the "Rust Belt" of America. The Rust Belt are the cities and communities, primarily in the Midwest and Great Lakes regions, where much of this country's successful manufacturing centers has been clustered for decades before periods of economic decline and urban decay took hold.
A modern-day manufacturing rebound is taking place in parts of the Rust Belt.
The Grand Rapids-Wyoming, Mich., metropolitan statistical area has seen a 29 percent rise in its industrial workforce since 2010, according to Forbes Magazine. The community has become home to several specialty companies with auto part, food, aerospace, and defense manufacturing operations.
Grand-Rapids-Wyoming, Mich.; Elkhart-Goshen, Ind.; Louisville/Jefferson County, Ind.; Detroit, Mich.-area suburbs Warren-troy-Farmington Hills; and the Detroit-Dearborn-Livonia are all examples of how manufacturing has been undergoing a rebound in the Rust Belt — shifting outside of the bigger cities in the region.
As suspected, the Detroit-area locations' industrial bases are heavily focused on supplying components for the automotive industry, and have benefitted greatly from the surge in car, truck and SUV sales in this nation. For example, Warren-Troy-Farmington Hills area has seen a 30.6 percent jump in its manufacturing workforce.
The Elkhart-Goshen areas manufacturing sector is almost solely based on the recreational vehicle (RV) industry, which is prone to cycles of extreme ups and downs. Like the Grand Rapids-Wyoming area, the Louisville/Jefferson County community's manufacturing sector of its economy has a diversified base. In other words, goods other than automobile-related parts are made there.
Also seeing a manufacturing rebound are high-tech centers located mainly in on and near the West Coast. The San Diego-Carlsbad metropolitan statistical area, in San Diego County, Calif., has been experiencing a resurgence of manufacturing, particularly in the high-tech and aerospace sectors. Since 2010, this Southern California area has seen an 11.5 percent rise in its industrial workforce. Most of those added jobs were in the production of aerospace and nondurable goods.
Other metro suburban areas seeing a healthy recovery of high-tech based manufacturing are Denver-Aurora-Lakewood, with 12.7 percent growth in its industrial workforce since 2010; and Portland-Vancouver-Hillsboro, Ore.-Wash., with manufacturing job growth of 12.4 percent since 2010.
Even the San Jose-Sunnyvale- Santa Clara, Calif. area — which suffered greatly after the dot.com bubble burst in 2000 — saw small gains in high-tech industrial jobs. While some of these high-tech/electronics positions did get sent overseas to parts of Asia, the San Jose-Sunnyvale- Santa Clara, Calif. area posted an industrial job gain of 5.9 percent.
Losing out on manufacturing sector recovery are some big cities which traditionally have had manufacturing-heavy economies. Two examples are Chicago and Los Angeles. The Chicago-Naperville-Arlington Heights area has seen industrial jobs fall off by about 1.7 percent since 2010, and the Los Angeles-Long Beach area has seen its manufacturing workforce shrink by 3.7 percent during that same period.
Diversification of local economies, characterized by a variety of industries employing people in a community, generally determines the impact of domestic manufacturing's economic ebbs and flows on an American community.
But will industrial workers uproot their families and move to one of these burgeoning manufacturing communities? Sometimes yes. Sometimes no.
Some workers will take manufacturing jobs in faraway communities to make ends meet for their family finances, go away to work for long periods of time — possible weeks at a time — and then commute home periodically. Technology, such as video calling, texting, and online chatting, has taken the sting out of being away from home for a long time for a lucrative job.
Making things a bit easier for these workers are many manufacturing employers willing to help with the issue of temporary housing, said Travel Expert Chris Rivett of HotelsCombined.com.
"Many corporate employers value these workers — even though they may not be able to relocate quickly or at all for the job — and offer them housing benefits such as free or low-cost temporary stays in quality long-stay hotels," Rivett explained.
Such adaptability of employers, workers, and production techniques are part of the reason why domestic manufacturing in the United States has survived in the digital/high-tech age, despite the significant changes this business sector has experienced. Many of those changes are attributed to the Great Recession of 2007, and technological advances.
Dan Blacharski is president of Ugly Dog Media.