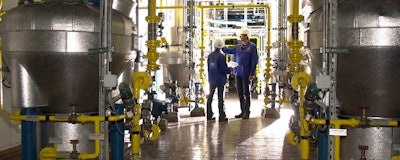 The manufacturing industry is using the Industrial Internet of Things (IIoT) as a driver for innovation and digital transformation. It's a market that's expected to grow at a furious rate. According to BI Intelligence, the installed base of manufacturing IoT devices is set to swell to 923 million devices in 2020 with manufacturers spending approximately $267 billion on IoT.
The benefits are multiple. IIoT sensors can be used to track the location and performance of factory machinery, tools and assets, monitor ambient temperature and pressure and gauge machine utilization. The data that's derived from those sensors can then be aggregated, prioritized and used to predict and quantify the severity of issues and eventually predict potential equipment failures.
But having access to this information alone is not enough. Information is most valuable in these situations when it can be easily acted upon and used as part of a closed-loop, service event management process.
Disconnections and Inefficiencies
Unfortunately, many manufacturers fail to take full advantage of this treasure trove of information. Despite manufacturers' significant investment in connected sensors and the IIoT, teams remain disconnected and reliant upon phone calls, spreadsheets, shared files, paper forms and cumbersome workflow extensions of legacy solutions. More time is spent pushing paper (inspections, tracking maintenance schedules, searching for warranty information, looking for wiring diagrams, etc.) and cutting and pasting data across applications than servicing broken equipment.
To effectively maximize machine, tool and asset utilization and performance, reduce unscheduled downtime and speed up the process for identifying the root cause of issues, as well as maximize technician productivity, service event management solutions needs to connect the people, processes, information and systems into a highly collaborative workspace.
Teams need in-context access to sensor information, as well as severity and probable cause, electronic access to repair plans and required specialized tools, wiring and structural diagrams, service history and other key information stored in legacy applications. In addition, business rules should be used to initiate notifications to internal (and external) personnel based on severity and type of issue.
A New Standard for Service Event Management
Service Relationship Management (SRM) is a proven approach to service event management that eliminates current access and communication inefficiencies. SRM connects everyone in the service supply chain (industrial maintenance mechanics and engineers, machine and tool manufacturers, third party contractors and service provides, etc.) with in-context information captured from IIoT sensors and legacy systems (asset management and computerized maintenance management systems) including service history, wiring and structural diagrams, in a real-time, cloud-based communication and collaboration portal.
SRM provides real-time status updates and puts workflow and process controls in place to reduce risk and increase service event efficiency. All information is captured in a case management system with event reporting and analytics capabilities. In addition, required service event data is also integrated back to other internal systems for further application and processing.
Information can be accessed while sitting at your desk or on-site managing electronic inspections and repairs. Managers can receive real-time alerts, quickly identify potential issues, track and audit complex activity and workflow, and measure and monitor events based on industry best practices and standard/target repair times.
A Successful System of Engagement
In 2012, Josh Bersin wrote in Forbes magazine about the distinction between "Systems of Record" and "Systems of Engagement." Bersin defined the former as traditional, embedded, bespoke ERP systems, such as CRM and HR software, that are designed for people with no choice but to use them, while the latter consisted of cloud-based tools that foster collaboration and easy-to-use interfaces.
When Bersin wrote his article, we were in a transitional period from the former to the latter. Five years later, Systems of Engagement have become far more prevalent in the manufacturing field — and SRM is a good example of one such type of solution. SRM offers manufacturers a cloud-based alternative that provides better access to information for everyone involved in the service supply chain, promoting greater understanding of immediate needs and better collaboration between all relevant parties.
But SRM goes even further by facilitating a more automated and streamlined process built on actionable and intelligent data management. This is precisely what manufacturers are looking for when they spend money on their IIoT deployments. They want highly connected ecosystems that will allow them to gain better insight into their components, make better decisions, and keep their plants and equipment running. With SRM, they're able to get exactly what they're paying for.
Michael Riemer is VP Product and Channel Marketing at Decisiv.