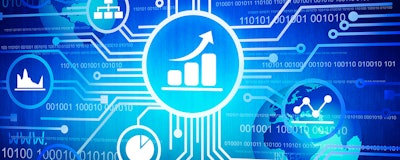 Early adopters of digitalization strategies have forged new trails in the monetization of data and services that others can follow. Turning data into dollars is not an overnight process though. It requires an innovative strategy, safeguards, research and a new way of looking at customers and target markets. As manufacturers plan their digitalization strategies, now is the time to identify any possible revenue streams that can be off-shoots from data applications. Understanding your revenue potential acts as valuable motivation to deploy digitalization tactics, acting as the "light at the end of the tunnel" if ever the course seems all uphill.
Getting Past the Challenges
In these early stages of digitalization concepts, many manufacturers are still struggling with finding sound solutions for collecting data, storing it, and transforming it into a consumable format.
This phase certainly can be frustrating. It requires much due-diligence on researching storage options, tools for aggregation of data, and tactics for maintaining the context of the data along with the data points. While these challenges can be time consuming, manufacturers should not let the twists and turns in the course deter continued commitment. All of the data generated by smart sensors embedded in and on products, vehicles, and equipment that is causing such a headache to store, can also be a goldmine. You just need to look past the rough edges.
Groundwork Has Been Established
Advanced innovators have moved past the challenge of data collection and storage and are reaping the benefits of putting that Internet of Things data to use — not only for their own applications and improvements to operations and efficiency, but also for finding external markets interested in the data and insights derived from the data. Manufacturers are successfully finding ways to monetize their data and build new revenue streams to help achieve faster Return on Investment (ROI). According to a Gartner report ("Prepare to Monetize Data from the Internet of Things," September 2016, Ted Friedman, Douglas Laney, Jim Hare), by 2018, direct monetization of IoT algorithms will reach $15 billion.
Putting a price tag on information is still a foreign concept for many manufacturers. Their heritage is based on making products that can be touched, labelled, priced, sold, packaged, inventoried and shipped to customers. Determining the value and target market for data can be challenging. It also brings with it complexities of security, privacy and ownership, the types of questions which have no easy answers but plenty of legal strings attached. This potential quandary of ethics and legal rights is one of the reasons manufacturers need to address this topic early in the strategy formation. No one wants to waste time on packaging data only to have the offering abruptly vetoed in a late-stage legal review.
Research Details Early
Doing your homework is essential if you are considering putting data up for sale. You must be certain you can aggregate the data into meaningful formats that are accessible and consumable. You may need to supplement the data with other related conditions such as weather or geography or add concluding insights. Keep in mind, the data points you package probably need to have relevant context in order for them to have actionable significance. Data needs to be cleansed to improve its validity, and you must be certain the data is not exposing personally identifiable or other sensitive content. You must consider how you will keep the data secure and reliable prior to delivery.
Determining Data That Has Marketable Worth
In order to determine what data has marketable worth, you must have a thorough understanding of the types of data points you have access to or can create. Customer opinions and purchasing habits are some of the most frequently aggregated and sold. Because consumers are highly sensitive about protecting their identity and contact information, marketing any type of data around customer profiles and buying trends becomes very tricky. Be careful to use data to enhance your relationship with your customers, not exploit or jeopardize the trust they place in you when shopping online, answering surveys or commenting about product results.
Machine-generated data has value too. Be sure to consider any revenue potential that can be harvested from sensors on in-plant machinery, equipment and vehicles. That data will tell a detailed, multi-dimensional story about the way industrial equipment and material handling equipment operates in various working conditions. Who can benefit from this data besides your own internal maintenance teams? The manufacturers of the plant machinery, of course, can use such data to make product design improvements. Plus, other users of the same or similar machinery may find value in your data-backed expertise for system performance improvement. You may be able to market valuable insights about the influence of the environment, early signs of degradation and safety improvements that should be followed. The challenge, though, is to not reveal so much expertise that your competitors can also benefit from your insights.
Next, look at data that is generated from your products in the retail setting or when being used by customers. When sensors are built into products or packaging, you can receive data about when the product leaves the shelf, when it is activated, or how the consumer operates the product. The buying trends and consumer practices are extremely valuable to a wide range of audiences — including the consumer. Consumers are willing to pay for insights about their own products when it brings a value to them… such as an email notice when their car is ready for an oil change — which includes a coupon from the local resource.
You can also consider marketing data to partners and suppliers in the extended value chain. For example, service contractors will appreciate knowing trends about equipment sales so they can accurately forecast business around installations/set-ups and 6-month inspections. Your data around sales or products types will help them be prepared with right replacement parts and inventory of consumables like filters, belts or ink. You can provide valuable insights derived from your sales statistics which can be used to forecast related activities and needs.
Collecting data from sensor-embedded, Internet-enabled smart products also opens paths to monetizing new enhanced offerings to the customer. For example, if you manufacture and sell forklifts, your industrial customer may opt to have that forklift equipped with sensors which will allow you to track performance or safety issues for them. You can then summarize performance and make recommendations to improve safety and to extend the lifecycle of the equipment. You can also provide valuable services, such as notification when a piece of equipment is due for preventive maintenance.
Concluding Insights
As manufacturers weigh the pros and cons of launching digitalization strategies, they should keep in mind that digitalization offers many benefits. One of the most important benefits is the added, new revenue which can be created. Data can be leveraged for its value to select niche audiences, including customers and suppliers. Data has value. You simply need to package and market it to the right people.
Mark Humphlett is a Sr. Director of Industry & Product Marketing at Infor.