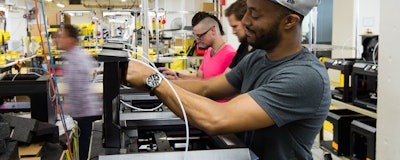 The Travelers Risk Index, an annual survey that provides insight into the most pressing concerns of American consumers and business leaders and conducted by The Travelers Companies, Inc., found that while fewer respondents believe that the world is becoming riskier, there are shared concerns about cyberthreats, the demands of a changing workforce and severe weather.
Findings Specific to the Manufacturing Industry
Just 36 percent are worried about global/political conflict, terrorism and social unrest. Businesses are more worried about:
Rising employee benefit costs (72 percent)
Medical cost inflation and legal liability (68 percent)
Cyber risks/data breaches and broad economy uncertainty (55 percent)
Rising workers' comp costs (54 percent)
Legal liability (52 percent)
Attracting and retaining skilled talent and supply chain risks (51 percent)
Trends businesses are most fearful of in the next year include:
Changing workforce (61 percent – aging population and influx of millennials)
Technological change (50 percent)
Energy dynamics (36 percent)
Key exposures/issues:
14 percent have experience a data breach, yet 21 percent say they have cyber insurance coverage
Just 23 percent have cyber/data breach response plans
Just 56 percent have a written business continuity plan
Just 26 percent feel they are properly insured, in general
Just 31 percent of business leaders are very confident that they are appropriately and adequately insured
"Our findings reveal common risks that business leaders and consumers may not be fully prepared to manage," said Patrick Gee, senior vice president of Claim at Travelers, in a press release. "The good news is there are steps they can take to help mitigate those risks and protect their families, finances, homes and businesses."
Forty-five percent of business leaders worry about new risks associated with increased automation and internet connectivity. Only 13 percent report being very confident that they have implement the right tools and best practices to avoid a cyberattack.
Check out the full results of the survey here or download here.