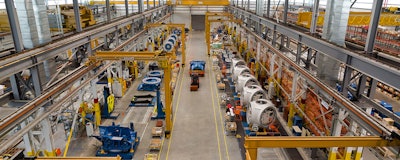 Today's global economy has created a greater degree of complexity when it comes to tracking enterprise assets, managing existing inventory and anticipating trends prior to customer demand.
Advances in sophisticated manufacturing techniques and enlightened business processes have enabled manufacturers to drive production improvements but without an effective Enterprise Asset Management (EAM) solution the enterprise is missing a key component.
Benefits Of Implementing An Enterprise Asset Management Solution
EAM solutions are considered a mature industry and often integrated with ERP systems. Modern EAMs typically consist of a modular set of applications that manage the acquisition, accounting depreciation, maintenance, repair and disposal of equipment. It encompasses all of the stages in an asset's lifecycle.
A robust EAM can add value by managing acquisitions, tracking inventory, maintenance if required and the repair and disposal of equipment. It can improve asset performance by using predictive and preventive technologies to help extend asset life. EAM helps firms understand the true cost of an asset at each point in its lifecycle, allowing them to make informed buy vs. repair decisions based on real data trends.
Gartner describes EAM as the product to address physical asset care requirements used by energy and utility companies to provide maintenance for fixed plants (power generation plants, water plants, refineries) for linear distributed assets (power lines and pipelines) and/or fleet assets (service equipment, transformers, etc.). Prominent users include other industries as well such as shipbuilding, mining, energy, government, utility, and aerospace and defense industries. Assets can be fixed like buildings, plants, machines or moving assets such as vehicles, ships and heavy equipment.
EAM can also help keep costs down by partially automating the supply chain to ensure the optimal inventory of parts and helping to avoid rush orders or the need to revert to more expensive or less reliable suppliers.
Gartner predicts that through 2020 the dominate delivery method for large asset-intensive organizations will continue to be on-premise systems with delivery via the cloud favored by smaller enterprises.
Companies embracing an effective EAM system agree that protecting business assets is a top priority. A recent report from the Aberdeen Group reports that best-in-class are 37 percent more likely than other companies to run EAM systems.
Legacy And Hybrid EAM Solutions Can Create Inefficiencies And bottlenecks
Many companies have evolved a hybrid solution that mixes automated, manual and paper-based methods to track assets. For example, a company may use a fixed asset accounting package to track depreciation while also maintaining a spreadsheet to cover service schedules and maintenance plans.
Companies that rely on paper-based work orders and parts usage reporting contribute inefficiencies in business operations and increase the response time when dealing with production delays and system downtime.
A Strong Bench Of Vendors
Infor and IBM are considered leaders among the many firms that offer EAM solutions. They include SAP, IFS, Oracle, Mainsaver and other smaller, less well-known companies which are considered niche players in the industry. Differentiation among vendors tend to be focused on usability, scalability and how well the solution fits the nuance of a specific industry. It's critical when evaluating potential solutions that companies conduct their due diligence and ascertain which solution is the best fit for their industry and unique situation.
A Better Solution
Automated EAM solutions eliminate the burden of manually tracking data while increasing visibility into asset availability, increasing safety and enabling maintenance teams to predict potential downtime events.
Companies embracing modern EAM systems are not only able to capture and leverage data from machines assets but also are better prepared to take advantage of the benefits that emerging Internet of Things (IoT) presents. Manufacturing, in particular, is predicted to be the biggest beneficiary of EAM and IoT functionality.
Regardless if the delivery method is on-premise or cloud-based, modern ERP-integrated EAM systems are delivering value and driving business process transformation which result in a more nimble, intelligent approach.
Andrew Bolivar is a senior consultant at Ultra Consultants. He is a 15-year manufacturing and technology industry veteran with experience with manufacturing, management consulting, and the software industry. His professional experience includes process engineering and implementation, software presales, and management consulting. Andrew has managed multiple, enterprise software implementation projects including ERP, PLM, eCommerce, & forecasting solutions. His experience crosses multiple verticals with strength in F&B, CPG and complex industrial manufacturing. Andrew holds a B.A. in Economics from the University of Illinois — Urbana/Champaign.