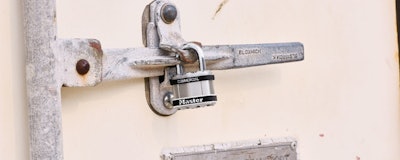 For many in the manufacturing and construction industries, keeping valuable equipment and tools in open air storage is a fact of life. However, so is the risk of theft. This is why finding the best solutions for keeping your equipment, and jobsites, secure is key.
Master Lock recently released its Commercial Magnum padlock series, aimed to further boost jobsite security. Here, Master Lock product manager Sherri Hanson shares some tips on picking the optimal security solution for your needs.
IMPO: With warm weather now here across the U.S., construction projects booming again and more industrial equipment and tools being kept outside in manufacturing environments, just how big of a problem is jobsite theft for those involved?
Sherri Hanson: During the day, everyone is out on the jobsite with their construction equipment. But once the jobsite shuts down and everyone goes home that equipment is largely left unattended, potentially creating a security risk.
Generally, it is difficult to secure equipment properly because it's often stored out in the open. In fact, the National Insurance Crime Bureau (NICB) estimates that jobsite thefts cost businesses between $300 million and $1 billion annually.
This is where Commercial Magnum can help. It's a great solution to secure highly portable equipment during the day and overnight, offering the enhanced security and weatherability tough outdoor industries demand.
IMPO: What are the common challenges contractors and factory operators face when keeping their tools and equipment secure?
Hanson: A first line of defense is to secure jobsite gates with heavy-duty padlocks. Most gates are equipped with accessories that easily enable companies to attach padlocks.
Smaller equipment, such as generators, are portable so it's more difficult to secure them. For this type of equipment, using a combination of a cable and a lock is a great way to secure the equipment to a truck bed or something as simple as a pole.
Contractors and operators should also store tools and small equipment that can fit inside job boxes or tool cribs. Job boxes are one of the most common applications for padlocks on construction sites, and Commercial Magnum padlocks were specifically tested within the job box environment and provide excellent security.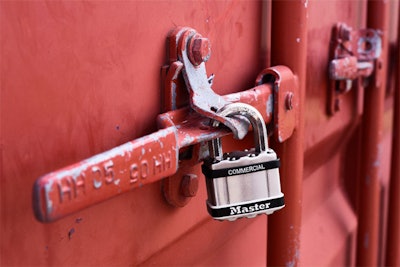 IMPO: Should end users find a padlock suited for both inside and outside environments, or does it make more sense to use ones specifically made for a certain environment?
Hanson: The Commercial Magnum padlocks are great for outdoor use and provide weather resistance. Their stainless-steel top and bottom plates and outer covering, chrome-plated shackle, as well as brass internal mechanisms all contribute to these padlocks' enhanced performance where weather is a factor.
Commercial Magnum padlocks also provide corrosion resistance in interior environments. Their materials and construction can withstand tough inside environments where caustic or corrosive chemicals are in use, such as a manufacturing setting.
Security features are important for both indoor and outdoor locations. Shackle cut and pry are common methods of attack on padlocks in both settings. Commercial Magnum features an octagonal boron-carbide shackle for increased cut resistance along with dual ball-bearing locking to provide high resistance to prying and hammering.
IMPO: What advancements have been made in padlocks over the past three to five years?
Hanson: The Master Lock Company regularly seeks the opinion of customers and users to evolve our product offering and then provide users with the best possible products for their applications.
Through this research, we identified the need for padlocks that offer enhanced security and weather resistance and are also cost effective for high-volume use. Commercial Magnum fills this need.
As far as overarching advancements within our line, we've recently launched several products that feature Bluetooth technology. Bluetooth products provide ease of access because the key is your smartphone and they also provide an audit trail — the ability to see who has accessed the lock and when. Those are the two significant features of the Bluetooth solutions and are part of the reason why customers are increasingly choosing these products as their security solutions.
IMPO: Any other information you'd like to share?
Hanson: We have our Edge Key Control system, which is very popular with businesses that have many users accessing secured locations. Edge offers the assurance that only authorized keys are in circulation. New keys can only be ordered from authorized locksmith dealers, security distributors or directly from the Master Lock factory. Stores are not able to purchase key blanks from Master Lock eliminating the ability to make unauthorized copies in the field.
Knowing unauthorized keys are eliminated, companies can quickly and efficiently track employee key assignments at each security point if a security breach or lost key incident occurs.