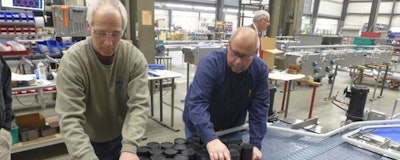 If you bought it in a supermarket, chances are good that your product spent a few seconds on a conveyor built at Nercon, Inc., an Oconto, WI manufacturer of state-of-the-art systems that move bottles, cans, cases and just about everything else in the food industry — and beyond.
"Conveyor" hardly describes the complexity of devices that manufacturers need to move products in the factory. In addition to various belts that move objects laterally, Nercon makes accumulators, case elevators, product upenders, grip elevators, diverters, rinsers and lift gates.
Until two years ago, "we would build you anything you want," says Daniel Bickel, production and operations manager. That had been a winning strategy for a company started in Oshkosh in 1974 by James Nerenhausen Sr., but it raised costs — in raw material, floor space, design time, and labor. "We probably stocked 40 types of sheet metal alone," Bickel says.
Production was distributed between factories in Oconto and Oshkosh, and that made life unduly complicated. By 2013, owner James Nerenhausen Jr. said Nercon needed to get better at making a few products.
But major changes can be dangerous in a successful company; it's always possible to cut the muscle along with the fat.
And so Nercon's leaders began attending an unusual "lean operations" program for manufacturers at the University of Wisconsin–Madison. "There were a lot of reasons to look at lean operations," says Nerenhausen. "We had almost 300 people between Oconto and Oshkosh. We'd been implementing automation without looking at the whole operation, and we suspected that we did not need so much floor space."
The Lean Operations Management Certificate from the Department of Engineering Professional Development at UW–Madison is a six-course series that integrates strategies known as lean, Six Sigma, theory of constraints and Quick Response Manufacturing. The course covers five essential areas: information and asset management, process predictability (cutting rework and overtime with better quality control), technology selection, performance measurement and feedback, and total participation at all levels of the organization.
EPD director Jeff Oelke, who spent four years streamlining operations and tightening suppliers' production schedules at John Deere's lawnmower factory in Horicon, concedes that even the first step — information and asset management — covers a massive organizational realm. Just one step within phase one, called "5S," often leads to significant improvements to information and materials flow, and therefore shorter production times:
Sort: Keep what's essential, discard the rest.
Set in order: Arrange and label the necessary items.
Shine: Keep clean for safety and preventive maintenance.
Standardize: Make the first three goals predictable.
Sustain: Maintain, recognize and celebrate the above habits.
As standardization was achieved, it sparked cascading improvements. Rather than build each conveyor to order, Nercon began adapting basic designs to the customer's requirements. That step alone allowed the company to stock just six types of sheet metal, down from 40.
Operations became leaner when materials and machines were relocated into "process cells" at the point of use.
The company had previously scheduled idle machines to make parts, such as shafts or brackets, for future sales. But the result was "rack upon rack of parts that we did not know if we were going to use," Bickel says. "Now we manufacture everything to demand, so we got rid of all this waste associated with inventory, including material, labor and floor space."
To save space, Nercon moved preliminary assembly off the main floor. "We needed to get the same amount out the door from one facility as we had from two, so we introduced a sub-assembly system after we took the lean operations class," says Bickel. The sub-assembly work stations contain only essential tools and parts, with clear labels.
Once streamlining got underway at Oconto, the Oshkosh plant was closed. "This was something we had to do to remain competitive," says Nerenhausen, "and we offered all employees a transfer to Oconto."
Two years later, company employment is down to about 140, but the firm is in a stronger financial position, and rising productivity has supported higher wages, says Nerenhausen. The company's headquarters has moved to Neenah.
"The courses give you a lot of ideas," says Nerenhausen. "Some is stuff you should already know, but it's put into a different format so it makes sense."
Like many of the changes initiated through lean operations, all of these moves were "simply common sense," Nerenhausen says. But common sense doesn't make lean operations easy to enact, says Oelke. "As the Nercon example shows, leadership at the top is essential."
At night, after class in Madison, Nerenhausen and Bickel spent hours discussing the concepts in terms of Nercon's operations. "At every class, there were certain points that I latched onto," says Bickel. "It was all I thought about: Where are we? Where can we make immediate improvements?"
In two years, Nercon has focused on "getting rid of waste of all types," says Bickel. "When we started, we were in our infancy, and we had a lot of room for improvement. We are teenagers now, not mature yet. The process is called continuous improvement, and there is always opportunity. I don't want to be done; it's exciting to find new ways to do more with less."
This article was originally published at University of Wisconsin - Madison's website. It can be found here.